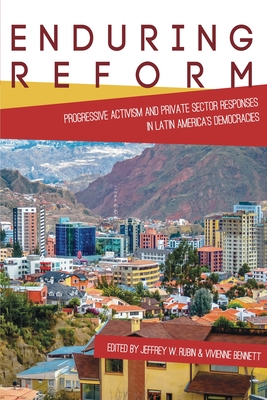 Enduring Reform (Paperback)
Progressive Activism and Private Sector Responses in Latin America's Democracies (Pitt Latin American Series)
University of Pittsburgh Press, 9780822963165, 272pp.
Publication Date: March 18, 2015
* Individual store prices may vary.
Description
Over the last twenty years, business responses to progressive reform in Latin America have shifted dramatically.  Until the 1990s, progressive movements in Latin America suffered violent repression sanctioned by the private sector and other socio-political elites.  The powerful case studies in this volume show how business responses to reform have become more open–ended as Latin America's democracies have deepened, with repression tempered by the economic uncertainties of globalization, the political and legal constraints of democracy, and shifting cultural understandings of poverty and race.

Enduring Reform presents five case studies from Mexico, Brazil, and Argentina in which marginalized groups have successfully forged new cultural and economic spaces and won greater autonomy and political voice.  Bringing together NGO's, local institutions, social movements, and governments, these initiatives have developed new mechanisms to work 'within the system,' while also challenging the system's logic and constraints.

 Through firsthand interviews, the contributors capture local businesspeople's understandings of these progressive initiatives and record how they grapple with changes they may not always welcome, but must endure. Among their criteria, the contributors evaluate the degree to which businesspeople recognize and engage with reform movements and how they frame electoral counterproposals to reformist demands. The results show an uneven response to reform, dependent on cultural as much or more than economic factors, as businesses move to decipher, modify, collaborate with, outmaneuver, or limit progressive innovations.

From the rise of worker-owned factories in Buenos Aires, to the collective marketing initiatives of impoverished Mayans in San Cristóbal de las Casas, the success of democracy in Latin America depends on powerful and cooperative social actions and actors, including the private sector. As the cases in Enduring Reform show, the democratic context of Latin America today presses businesspeople to endure, accept, and at times promote progressive change in unprecedented ways, even as they act to limit and constrain it.
About the Author
Jeffrey W. Rubin is associate professor of history at Boston University. He is the author of Decentering the Regime: Ethnicity, Radicalism, and Democracy in Juchitán, Mexico, coauthor of Sustaining Activism: A Brazilian Women's Movement and A Father-Daughter Collaboration, and coeditor of"Lived Religion and Lived Citizenship in Latin America's Zones of Crisis," a special issue of the Latin American Research Review.  
 
Vivienne Bennett is professor of liberal studies at California State University San Marcos. She is the author of The Politics of Water: Urban Protest, Gender, and Power in Monterrey, Mexico and coeditor of Opposing Currents: The Politics of Water and Gender in Latin America.
Praise For Enduring Reform: Progressive Activism and Private Sector Responses in Latin America's Democracies (Pitt Latin American Series)…
"Enduring Reform is a novel, innovative and important collection exploring the nuances and complexities of business responses to progressive politics in contemporary Latin America. Rubin and Bennett offer a masterful collection that shows ways of thinking of businesspeoples' motivations and preferences that go beyond simple economic explanations and crude assumptions about hostility to progressive movements."
—Peter Kingstone, King's College London
"Enduring Reform stands out in a large body of literature examining political reform by focusing specifically on the reaction of business interests to examples of successful progressive reform in Argentina, Brazil and Mexico. Given the growing recognition of the importance of markets, public-private partnerships and the private sector more generally, such a focus is long overdue."
—Philip Oxhorn, McGill University
"With a series of case studies from across Latin America that document whether, how, and why private sector actors might embrace progressive reforms to longstanding market or state practices, Jeffrey Rubin and Vivienne Bennett reveal the impacts of culture, history, and new forms of institutional and civic collaboration in the constant struggle to attain justice and achieve recognition in societies seeking to reverse the inequities of the past. This volume is not for those who want pat answers consistent with conventional ideological posturing about neoliberalism and its discontents. But for those who are willing to acknowledge the complexities and contradictions of progressive social change, and who want to know how citizens themselves have negotiated the boundaries of power through on-going political and social activism, sometimes in ways that help overturn the legacies of privilege, this book will gratify."
—Diane E. Davis,Harvard University
The book also adds a new analytical dimension, asking how, in each case, these projects have been received by local business, what this tells us about the future of such reforms, and what it all means for the health of democracy.
--Latin American Research Review
or
Not Currently Available for Direct Purchase