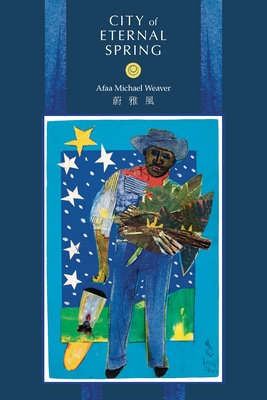 City of Eternal Spring (Pitt Poetry Series) (Paperback)
University of Pittsburgh Press, 9780822963257, 96pp.
Publication Date: September 17, 2014
* Individual store prices may vary.
Description
Winner of the 2015 Phillis Wheatley Book Award (poetry category)

This is the final book in the Plum Flower Trilogy by Afaa Michael Weaver, published by the University of Pittsburgh Press. The two earlier books, The Plum Flower Dance: Poems 1985 to 2005 and The Government of Nature, reveal similar themes that address the author's personal experience with childhood abuse through the context of Daoist renderings of nature as a metaphor for the human body, with an eye to recovery and forgiveness in a very eclectic spiritual life. City of Eternal Spring chronicles Weaver's travels abroad in Taiwan and China, as well as showing the limits of cultural influence.
About the Author
Afaa Michael Weaver is the author of twelve previous poetry collections, including Timber and Prayer: The Indian Pond Poems, My Father's Geography, The Plum Flower Dance: Poems 1985 to 2005, and The Government of Nature. He is Alumnae Professor of English at Simmons College in Boston. Weaver is the recipient of an NEA fellowship, a Pew fellowship, and a Pennsylvania Council on the Arts fellowship. He has been awarded the Kingsley Tufts Poetry Award, a Pushcart Prize, and a Fulbright scholar appointment, among other honors.
Praise For City of Eternal Spring (Pitt Poetry Series)…
"A bold collection. As he embraces spiritualism, Weaver always has two feet firmly planted in the American experience as he has lived it."
—Fox Chase Review
 
Past praise for Afaa Michael Weaver
"The Kingsley Tufts Award is one of the most prestigious prizes a poet can win, and I'm delighted to see it go to Afaa. His father was a sharecropper. After serving for two years in the Army, he toiled for fifteen years in factories, writing poems all the while. When he learned that he'd won a National Endowment Fellowship, he quit his job and attended Brown University on a full scholarship. He essentially invented himself from whole cloth as a poet. It's truly remarkable."
—Chase Twichell, chief judge, Kingsley Tufts Poetry Award, 2014 presented for The Government of Nature
 
Past praise for Afaa Michael Weaver
"In these nuanced, sobering, and beautifully cadenced poems, the poet tries to deal with haunting, mysterious voices of past, present, and future—whether of fear, anxiety, joy, love, or hope. Reconciling East and West, he achieves solacing harmony and tranquility. A marvelous work."
—Ching-Hsi Perng, President of Taipei Chinese Club, on The Government of Nature
Past praise for Afaa Michael Weaver
"Weaver is one of the most significant poets writing today. With its blend of Chinese spiritualism and American groundedness, his poetry presents the reader (and the listener, for his body of work is meant to be read aloud) with challenging questions about identity, about how physicality and spirit act together or counteract each other to shape who we are in the world." 
—Henry Louis Gates for Baltimore Magazine