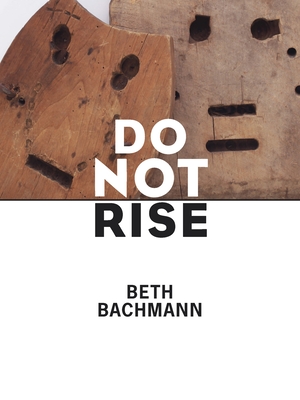 Do Not Rise (Pitt Poetry Series) (Paperback)
University of Pittsburgh Press, 9780822963288, 72pp.
Publication Date: January 13, 2015
* Individual store prices may vary.
Description
"Beth Bachmann's Temper was the last time [in forty years] I remember reading a first book by a poet so prodigally and—the word that came to my mind was—severely gifted. The new poems in Do Not Rise are a quantum leap forward with all the metaphorical leaps, adumbrations, dizzyings, deft, brief knottings that make the poems in Temper so dazzling. A remarkable young talent, and a scary one."
—Robert Hass
About the Author
Beth Bachmann's previous poetry book, Temper, received the Donald Hall Prize in Poetry and the Kate Tufts Discovery Award. Do Not Rise received the Poetry Society of America's Alice Fay Di Castagnola Award. Her poems have appeared in the American Poetry Review, Kenyon Review, Prairie Schooner, Boston Review, andSouthern Review and have been anthologized in TheBest New Poets 2005 and 2007. Her honors also include the American Poet Prize and fellowships from the Tennessee Arts Commission, Bread Loaf, and the Sewanee Writer's Conference. Bachmann teaches creative writing at Vanderbilt University.
Praise For Do Not Rise (Pitt Poetry Series)…
"The author of but one other book of poetry, Temper (2009), Bachmann has already established herself as a powerful voice in contemporary poetics, one who writes like 'a sibyl burning the leaves and smelling the smoke,' as poet Robert Hass has described her. While Temper addresses the unsolved murder of her sister, her second collection takes war as its central theme as she goes inside the heads of soldiers suffering from PTSD, explores unrestrained governmental surveillance, and mines traumatic memories. Bachmann crafts images of arresting serenity ('No snow on the road, only falling'), disconcerting severity ('Fingers / in the mouth make mud / into a poultice to warm / the dead'), and haunting intimacy ('Unknown soldier, you hardly say you love me but you love me like ice / the orchid takes slowly in its turning toward light'). With deeply resonant lyrics, strange grace, and unorthodox arrangement, Bachmann is in good company among poets such as Charlotte Boulay (Foxes on a Trampoline, 2014), Dana Goodyear (The Oracle of Hollywood Boulevard, 2013), and D.A. Powell (Useless Landscape, 2012)."
—Booklist
 
"Fiercely distilled and haunted by the cruelties of war, Do Not Rise is compressed, imperative, disquieting, and compassionate."
—Edward Hirsch
"The collection's conceptual center—and its most insistent word—is "open." . . . The resulting gaps open the poem to a meaningful range of pauses, hesitations, delays, sonic mutations, reconsiderations. . . . There is so much seeing in its listening."
—Elizabeth Willis
"Beth Bachmann's Temper was the last time [in forty years] I remember reading a first book by a poet so prodigally and—the word that came to my mind was—severely gifted. The new poems in Do Not Rise are a quantum leap forward with all the metaphorical leaps, adumbrations, dizzyings, deft, brief knottings that make the poems in Temper so dazzling. A remarkable young talent, and a scary one."
—Robert Hass
"A fierce collection, one that reminds us of poetry's vital place in processing our never-ending wars."
—The Collagist
"Nearly two centuries after the first recorded use of the term, 'war poet' still defies easy definition. It is a fraught laurel, one which Beth Bachmann wears with unflinching honesty and passion. Her latest collection,' Do Not Rise', demonstrates the lyric's ability to transcend its music and offer a haunting perspective on both violence and its aftermath . . . Indeed, it is difficult to imagine more vital poems than the ones Bachmann writes."
—Chapter 16
"The poems are terrifying and complex—the words seem to loom in every part of the room long after you read them. Do Not Rise is purposefully unmoored by particulars. It is abstract in the strongest way, revealing something intrinsic and unrestricted, theoretical and affecting."
—The Rumpus
or
Not Currently Available for Direct Purchase