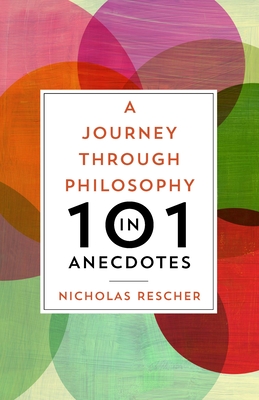 A Journey through Philosophy in 101 Anecdotes
Paperback

* Individual store prices may vary.
Description
Nicholas Rescher presents the first comprehensive chronology of philosophical anecdotes, spanning from antiquity to the current era. He introduces us to the major thinkers, texts, and historical periods of Western philosophy, recounting many of the stories philosophers have used over time to engage with issues of philosophical concern: questions of meaning, truth, knowledge, value, action, and ethics. Rescher's anecdotes touch on a wide range of themes—from logic to epistemology, ethics to metaphysics—and offer much insight into the breadth and depth of philosophical inquiry. This book illustrates the various ways philosophers throughout history have viewed the issues in their field, and how anecdotes can work to inform and encourage philosophical thought.
Praise For A Journey through Philosophy in 101 Anecdotes…
"Might a million monkeys typing away randomly on a million typewriters ever create a meaningful book? In this musing of French mathematician Émile Borel, Rescher discovers an entry point into G. W. Leibniz's speculation on the limits of human knowledge, a speculation leading to Kurd Lasswitz's dream of a universal library, a dream opening onto Friedrich Nietzsche's doctrine of the eternal recurrence. Through an interwoven network of 101 mutually illuminating episodes, Rescher carries readers across a wide swath of philosophy—ancient, medieval, modern—probing seven thematic clusters. His speed-dating approach to philosophy gives readers stimulating glimpses of philosophy's perennial questions, interrogated from a variety of perspectives. This wide-ranging foray will naturally appeal most to readers already schooled in philosophical principles, but general readers lacking such schooling will uncover surprising insights: whether joining Thomas Hobbes in inspecting oft-darned socks or William James in pursuing an elusive squirrel, they will marvel at the truths careful thinking can tease out of ordinary life experiences. A kaleidoscopic survey of the treasures of philosophy."
—Booklist
 

"What Rescher offers is a potpourri of brief (two- to three-page) reflections on select images, passages, or themes that encapsulate intriguing ideas. Arranged chronologically, from the Tower of Babel and Heraclitus's river to John Searle's Chinese room and Jacques Derrida's "demolition," each meditation generally states the context of the topic, quotes from a primary text, and then succinctly spells out the reasonable import that flows (or doesn't flow) from the issue, often concluding with an insight, implication, or invitation to further reflection. Suggested related anecdotes for each reading and a table of thematic clusters around the traditional topics of philosophy invite readers to skip around in the book according to their interests. VERDICT Despite occasional lapses into logic-eese and some abstruse vocabulary, this esteemed, prolific philosopher offers a thoughtful, wise, and engaging journey through philosophy's history and major themes in bite-size morsels. Suitable for general readers.
—Library Journal

"Rescher's A Journey through Philosophy in 101 Anecdotes is just that—and much more. The book is immensely wide-ranging, highly instructive, and a delight for anyone interested in ideas, intellectual puzzles, and the breadth of philosophical imagination. The engaging narrative style invites reading for pleasure; the range gives the book relevance to scores of philosophical topics; and the sketches themselves contribute ideas on major issues."
—Robert Audi, John A. O'Brien Professor of Philosophy, University of Notre Dame

"Nicholas Rescher has culled from the entire history of philosophy its most pungent stories, puzzles, and paradoxes. The result is a satisfying tapas-style introduction to the main periods and ideas of Western thought. Wherever you dip into this book, whether you're new to philosophy or an experienced scholar, you're assured a burst of intellectual stimulation."
—Scott Samuelson, author of The Deepest Human Life: An Introduction to Philosophy for Everyone
University of Pittsburgh Press, 9780822963356, 304pp.
Publication Date: June 4, 2015
About the Author
Nicholas Rescher is Distinguished University Professor of Philosophy at the University of Pittsburgh and co-chairman of the Center for Philosophy of Science. A member of the American Academy of Arts and Sciences, he has served as president of the Eastern Division of the American Philosophical Association, the Leibniz Society of North America, the Charles S. Peirce Society, the American Catholic Philosophical Association, and the Metaphysical Society of America. Rescher is the author or editor of more than one hundred books, including Ignorance (On the Wider Implications of Deficient Knowledge), Philosophical Inquiries: An Introduction to Problems of Philosophy, and A Journey through Philosophy in 101 Anecdotes.