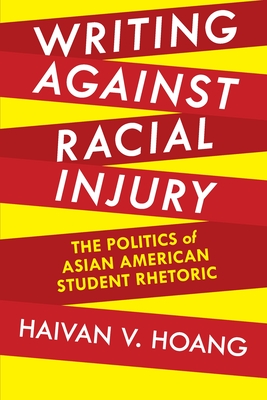 Writing against Racial Injury (Paperback)
The Politics of Asian American Student Rhetoric (Composition, Literacy, and Culture)
University of Pittsburgh Press, 9780822963622, 200pp.
Publication Date: June 30, 2015
* Individual store prices may vary.
Description
Writing against Racial Injury recalls the story of Asian American student rhetoric at the site of language and literacy education in post-1960s California.  What emerged in the Asian American movement was a recurrent theme in U.S. history: conflicts over language and literacy difference masked wider racial tensions.  Bringing together language and literacy studies, Asian American history and rhetoric, and critical race theory, Hoang uses historiography and ethnography to explore the politics of Asian American language and literacy education: the growth of Asian American student organizations and self-sponsored writing; the ways language served as thinly veiled trope for race in the influential Lau v. Nichols; the inheritance of a rhetoric of injury on college campuses; and activist rhetorical strategies that rearticulate Asian American racial identity.  These fragments depict a troubling yet hopeful account of the ways language and literacy education alternately racialized Asian Americans while also enabling rearticulations of Asian American identity, culture, and history.  This project, more broadly, seeks to offer educators a new perspective on racial accountability in language and literacy education.
About the Author
Haivan V. Hoang is associate professor of English at the University of Massachusetts Amherst.
Praise For Writing against Racial Injury: The Politics of Asian American Student Rhetoric (Composition, Literacy, and Culture)…
"Hoang offers an insightful thick description of Asian American activism rhetoric at the sites of language and literacy production.  It teaches us to rethink what we mean by 'student writing' and the 'teaching of writing' in light of a broad range of self-sponsored, extracurricular rhetorical acts by Asian American activists."
—Min-Zhan Lu, University of Louisville
"Hoang's major intervention is her development and retheorization of Asian American ethos and the uses of memory to create rhetorical situations that challenge racism.  Hoang is able to develop an argument that not only has breadth (for its wider discussion of the politics of race and language) but also depth for its rhetorical reading of Asian American student activism."
—Morris Young, University of Wisconsin
or
Not Currently Available for Direct Purchase