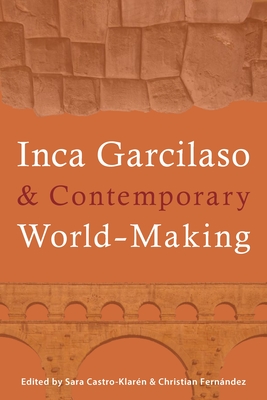 Inca Garcilaso and Contemporary World-Making (Pitt Illuminations) (Paperback)
University of Pittsburgh Press, 9780822963646, 424pp.
Publication Date: July 8, 2016
* Individual store prices may vary.
Description
This edited volume offers new perspectives from leading scholars on the important work of Inca Garcilaso de la Vega (1539–1616), one of the first Latin American writers to present an intellectual analysis of pre-Columbian history and culture and the ensuing colonial period. To the contributors, Inca Garcilaso's Royal Commentaries of the Incas presented an early counter-hegemonic discourse and a reframing of the history of native non-alphabetic cultures that undermined the colonial rhetoric of his time and the geopolitical divisions it purported. Through his research in both Andean and Renaissance archives, Inca Garcilaso sought to connect these divergent cultures into one world.
This collection offers five classical studies of Royal Commentaries previously unavailable in English, along with seven new essays that cover topics including Andean memory, historiography, translation, philosophy, trauma, and ethnic identity. This cross-disciplinary volume will be of interest to students and scholars of Latin American history, culture, comparative literature, subaltern studies, and works in translation.
About the Author
Sara Castro-Klarén is professor of Latin American Culture and Literature in the Department of German and Romance Languages and Literatures at The Johns Hopkins University. In 1988, she co-founded the Program in Latin American Studies at Johns Hopkins, and has twice been the director of the program. She is the author of The Narrow Pass of Our Nerves: Writing, Coloniality and Postcolonial Theory and editor of A Companion to Latin American Literature and Culture.
Christian Fernández is associate professor of Latin American studies at Louisiana State University, where he has twice served as director of Hispanic studies. He is the author of Inca Garcilaso: Imaginación, memoria e identidad.
Praise For Inca Garcilaso and Contemporary World-Making (Pitt Illuminations)…
"These essays bring Garcilaso into the modern world as still a relevant and bold writer."
—North of Oxford
"An indispensable tool for scholars across disciplines, especially those interested in Latin American and indigenous pasts. It is also strongly recommended reading for early modern researchers focused on other languages, for they may not be familiar with Inca Garcilaso—an author that should definitely be part of their canon."
—Gustavo Verdesio, University of Michigan
"An excellent collection of essays on one of the first Latin American writers to elaborate a sophisticated reflection on the pre-Columbian past and the colonial experience in dialogue with Europe's Renaissance and classical cultural traditions. Each essay brings a new dimension to Garcilaso's texts, the importance and complexity of which are evident."
—Luis Fernando Restrepo, University of Arkansas
"With such promising ideas as these, scholars from across the humanities should find tis engaging, self-aware volume as fascinating as I have."
—Keith Howard, Florida State University