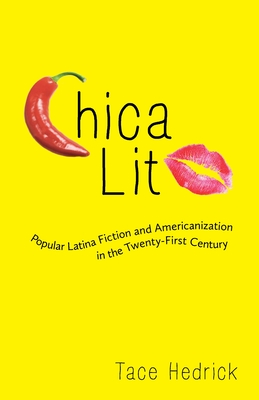 Chica Lit (Paperback)
Popular Latina Fiction and Americanization in the Twenty-First Century (Latinx and Latin American Profiles)
University of Pittsburgh Press, 9780822963653, 128pp.
Publication Date: June 11, 2015
* Individual store prices may vary.
Description
Winner, 2016 ALA-Choice Outstanding Academic Title

In Chica Lit: Popular Latina Fiction and Americanization in the Twenty-First Century, Tace Hedrick illuminates how discourses of Americanization, ethnicity, gender, class, and commodification shape the genre of "chica lit," popular fiction written by Latina authors with Latina characters. She argues that chica lit is produced and marketed in the same ways as contemporary romance and chick lit fiction, and aimed at an audience of twenty- to thirty-something upwardly mobile Latina readers. Its stories about young women's ethnic class mobility and gendered romantic success tend to celebrate twenty-first century neoliberal narratives about Americanization, hard work, and individual success. However, Hedrick emphasizes, its focus on Latina characters necessarily inflects this celebratory mode: the elusiveness of meaning in its use of the very term "Latina" empties out the differences among and between Latina/o and Chicano/a groups in the United States. Of necessity, chica lit also struggles with questions about the actual social and economic "place" of Latinas and Chicanas in this same neoliberal landscape; these questions unsettle its reliance on the tried-and-true formulas of chick lit and romance writing. Looking at chica lit's market-driven representations of difference, poverty, and Americanization, Hedrick shows how this writing functions within the larger arena of struggles over popular representation of Latinas and Chicanas.
About the Author
Tace Hedrick is associate professor of English and women's studies at the University of Florida. She is the author of Mestizo Modernism: Race, Nation, and Identity in Latin American Culture, 1900-1940.
Praise For Chica Lit: Popular Latina Fiction and Americanization in the Twenty-First Century (Latinx and Latin American Profiles)…
"A brilliant example of scholarship that explores the difficult yet absolutely necessary effort of being present within the mainstream while maintaining cultural integrity."
—Choice
"Hedrick argues that chica lit novels negotiate a fine line between selling ethnicity and not seeming too ethnic or threateningly so; the lesson of chica lit is assimilable Americanness to which being Latina merely adds flavor without presenting conflict or critique."
—Marta Caminero-Santangelo, University of Kansas
"Chica Lit is the first comprehensive study of an understudied genre. Hedrick analyzes the implications of how such texts convey a middle class Latina identity along with a reach toward other seemingly contradictory ethnic identity markers."
—Frederick Luis Aldama, Ohio State University