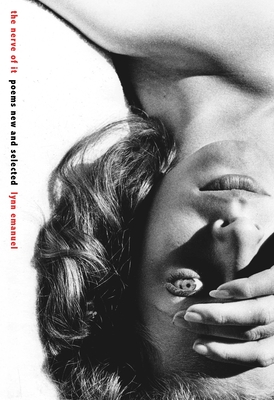 The Nerve Of It
Poems New and Selected (Pitt Poetry Series)
Paperback

* Individual store prices may vary.
Description
Winner of the 2016 Lenore Marshall Poetry Prize from the Academy of American Poets
Emanuel's version of a "new and selected poems" turns convention on its head. She ignores chronology, placing new poems beside old, mixing middle and early poems with recent work, and liberating all her poems from the restraints of their particular histories, both aesthetic and autobiographical. Whether writing in the comedic drag of the cartoon strip, or investigating the Mobius strip relationship between reader and writer, or exposing the humor and hurt that accompany visitations from Frank O'Hara and Gertrude Stein, The Nerve of It both stings and pleases with its intelligence, wit and vivacity. It breaks through, in ways that are bold, sexy, haunting and wry, the die-hard opposition of new and old, personal narrative and linguistic play, sincerity and irony, misery and hilarity. Open the book. Something new is happening here.
Praise For The Nerve Of It: Poems New and Selected (Pitt Poetry Series)…
"Emanuel's work (Noose and Hook), in the new and previously collected poems presented here in an original sequence, displays all the qualities of an outgoing personality: direct, confident, vivacious, and generous to the reader. It's an original turn; the arc is nonchronological and reads as a single, independent text that makes clear the central concerns in her work and shows the development of various aesthetic and thematic tracks. The collection begins with Emanuel's most straightforwardly autobiographical poems and moves through her increasing interest in the slippery qualities of narrative. Poems of portraiture and place begin to include meditations on mortality and decay, attend to abstracted qualities of identity and intimacy, in homages to Baudelaire, O'Hara, Stein, Whitman, and Berrigan. While in much of her writing the writer is "like a ship plated with the armor of experience,/ nosing the seas which are its seas," there is also "the call to rise out of the trance of myself/ into the surcease of the dying world." Emanuel's uninhibited manner and her noir sensibilities are constants, especially the finely wrought use of melodrama and the erotic. New readers will gain a strong sense of Emanuel's poetics, and those familiar with her work will see old poems in a new light as their shifted contexts draw out new resonances."
—Publishers Weekly

"Emanuel's extraordinary poetic intelligence, gutsy wit, and her images' ideal meld of the concrete and the ineffable amaze. What vibrant, resonant, nimble poems, each a perfect cocktail of acuity, objectivity, and heart."
—Amy Gerstler

"Lynn Emanuel's riveting volume is ordered as the story of a life, but the emphasis belongs on story; this poet is possessed by the inescapable elision, invention, and revision that telling entails. Her riddling, elusive poems pull the reader through memory mirrored and revealed, told by a narrator who slips in and out of her own skin, delivering, time after time, the truth of ardor, sorrow, and bewilderment in poems that pulse with sheer wild nerve."
—Mark Doty

"Already one of our most original voices, Emanuel has constructed a 'new and selected' that is both stunning and seamless. Excavating the previous work to reveal the emotional and aesthetic 'nerve' of it, Emanuel invites us to watch a mature and provocative artist emerge from the verve and dazzle that have always characterized her work."
—Martha Collins

"Every poem in The Nerve of It takes on a different tumult—from madcap to turbulent. The collection is vivid, sexy, and captures Emanuel's irrepressible drive."
—Kimiko Hahn
University of Pittsburgh Press, 9780822963691, 120pp.
Publication Date: August 21, 2015
About the Author
Lynn Emanuel is the author of four previous books of poetry: Hotel Fiesta, The Dig, Then, Suddenly—, and, most recently, Noose and Hook.  Her work has been featured in ThePushcart Prize Anthology and TheBest American Poetry numerous times and is included in The Oxford Book of American Poetry. She is the recipient of two fellowships from the National Endowment for the Arts, the National Poetry Series Award, the Eric Matthieu King Award from the Academy of American Poets, and, most recently, a fellowship from the Ranieri Foundation.
or
Not Currently Available for Direct Purchase