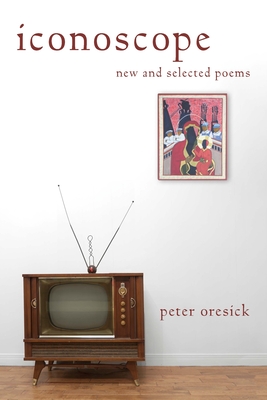 Iconoscope (Paperback)
New and Selected Poems (Pitt Poetry Series)
University of Pittsburgh Press, 9780822963806, 144pp.
Publication Date: November 13, 2015
* Individual store prices may vary.
Description
Collected here are poems from Peter Oresick's previous books, beginning with The Story of Glass (1977), and to them are added 36 new poems called Under the Carpathians. His work—known for working class and Catholic themes—probes labor and social history, post-World War II America, Eastern European identity, Eastern Rite Catholicism, and Russian icons and fine art and especially Pittsburgh-born pop art icon Andy Warhol.
About the Author
Peter Oresick is a poet whose works include Warhol-o-rama,Definitions, and Working Classics: Poems on Industrial Life. He has taught at Carnegie Mellon University, Chatham University, the University of Pittsburgh, and Emerson College.
Praise For Iconoscope: New and Selected Poems (Pitt Poetry Series)…
"It's rare to find a poet with such a laser focus on creating a lifelong legacy . . . His poems glitter like ornate glass drinking bottles-beautiful, yes, but equally aware of their utility. . . This seems to be Oresick's great message, and I am grateful for it: that we all live a life that is capable of rising to the status of art."
 
"A stirring retrospective. For decades, Oresick's been keeping it real. His well-rounded supple poetics, showcased in 'Iconoscope,' play out, artistic and compelling."
—Pittsburgh City Paper
 
"As a poet, Peter Oresick covers all the bases. He can write in the formal cadences of the modern style, establishing his bona fides in the academic world he has inhabited for decades in a rich career . . . But he also delivers crowd-pleasing verse--with integrity, not E-Z tricks."
—Pittsburgh Quarterly
 
"Peter Oresick's Iconoscope is poetry of the highest order. Its breadth and depth of ambition, its sharp-edged and tough-minded intelligence, its intense moral, emotional, and spiritual sensibility, its acute social consciousness and imaginatively compelling power, create a body of work virtually singular in American poetry. Oresick's poems are recurrent testimonies to the fact that poetry, in its fullest sense, has to do with vision. Grounded on the entirety of existence and on an experience of the real worlds around and within us, Iconoscope strikes deeply into poetry's eternal truths."
—Lawrence Joseph, from the introduction
or
Not Currently Available for Direct Purchase