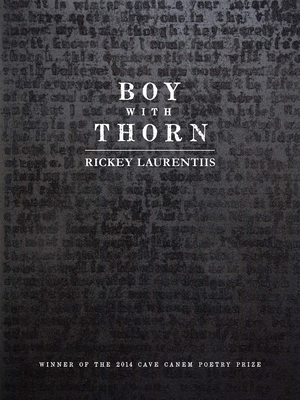 Boy with Thorn (Pitt Poetry Series)
Paperback

* Individual store prices may vary.
Description
Winner of the 2016 Levis Reading Prize
Winner of the 2014 Cave Canem Poetry Prize
Finalist for the 2017 Kate Tufts Discovery Award
Rickey Luarentiis is a winner of a 2018 Whiting Writers Prize

In a landscape at once the brutal American South as it is the brutal mind, Boy with Thorn interrogates the genesis of all poetic creation—the imagination itself, questioning what role it plays in both our fascinations with and repulsion from a national history of racial and sexual violence. The personal and political crash into one language here, gothic as it is supple, meditating on visual art and myth, to desire, the practice of lynching and Hurricane Katrina. Always at its center, though, is the poet himself—confessing a double song of pleasure and inevitable pain.
Praise For Boy with Thorn (Pitt Poetry Series)…
"Laurentiis's debut collection, winner of the 2014 Cave Canem Poetry Prize, oscillates between a lament for the brutalization of black bodies throughout history and a celebration of the pleasures of sexuality and desire. . . . an anxious tension that haunts the book; Laurentiis's difficulty in reconciling his relationship to canonical art, art's relationship to white supremacy, and his dual celebration of and mourning for lives at society's margins. Yet Laurentiis possesses the formal tools of a strong poet, and instead of reading too deeply into such a sociopolitical critique, potential readers should see that this promising writer still has room to grow."
—Publishers Weekly
"Boy with Thorn arrives at a crucial time in American literary discourse, engaging the oppressive and harmful legacies of our nation with clarity and intelligent critique. Laurentiis' collection as a whole is honest in recognition of a life lived through violence. The reader must praise the landscapes in this collection, in the midst of its terror and destruction, for also producing Laurentiis' lyric beauty and wisdom. His relentless recognition of personal truths and reclamation of narratives formerly silenced is an example of poetry at its highest form."
—Indiana Review
 
"Whether in praise songs, appraisals, or meditations, the poems of Boy with Thorn embody an ardent grace. Their accomplished structures house a fearless sensitivity. Laurentiis fills history with his 'crucial blood,' his 'stubbornness,' his 'American tongue';  history, in return, fills him with crucial muses (from Auden to Hayden), stubborn ghosts (such as Emmett Till), and manifold expressions of culture (southern, sexual, spiritual). The result is an extraordinary and ultimately irreducible debut."
—Terrance Hayes, judge
"A rare collection that is truly timeless. In Laurentiis's lyric, Orpheus's rivened body is irreducibly black. Laurentiis looks back into the cave of history and sings the ghosts into shape, ghosts undone by America's racial discord. From slaves to queer lives ravaged by hate to those disenfranchised by Katrina, Laurentiis unflinchingly looks at the brutal lineage of a black body made into a spectacle in pain, while also questioning this looking, this singing. Sonorous and wild, emphatic and pure, Boy with Thorn is absolutely incredible."
—Cathy Park Hong
"A dialogue, allusive, elusive, political and charged by a novel vision, unfolds within the dark landscapes of Rickey Laurentiis' astonishing poems in Boy with Thorn. In this collection he writes a world and a poetics into life, creating poetry as illumination, to echo Audre Lorde, in part by discovering the light in history's and life's silences and shadows. His words are perfectly aimed flares; his sinuous syntax bears both fire and balm; the stories he tells are the precondition for a remapping of dream and desire. Boy with Thorn shows a mind at full speed and fearless of what it might uncover, heralding a new, true talent."
—John Keene
"A crafted and polished book."
—Image
"Laurentiis' poems have the vastness of a single voice shouted into echo in a deep well, and this is why the collection seems to render more than it contains in mere information alone. Rich in subtext and musically deft, the poems please even as they parry, excited even as they incite one to consider their stakes. For this reason, the collection is owed the reading--and rereading--by poets and students of poetry both."
—On the Seawall
University of Pittsburgh Press, 9780822963813, 104pp.
Publication Date: September 9, 2015
About the Author
Rickey Laurentiis, winner of a 2018 Whiting Award,  is a Cave Canem Graduate Fellow, is the recipient of a Ruth Lilly Fellowship from the Poetry Foundation, as well as fellowships from the Civitella Ranieri Foundation in Italy, the National Endowment for the Arts, and Washington University in St. Louis. His poems appear or are forthcoming in Boston Review, Fence, Kenyon Review, New England Review, New Republic, Poetry, and elsewhere. Born in New Orleans, Louisiana, he currently lives in Brooklyn, New York.