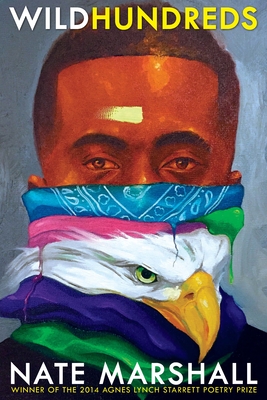 Wild Hundreds (Pitt Poetry Series)
Paperback

* Individual store prices may vary.
Description
Winner, 2017 Great Lakes Colleges Association New Writers Award (poetry category)
Winner, 2016 BCALA Literary Award (poetry category)
Winner of the 2014 Agnes Lynch Starrett Poetry Prize
Finalist, 2015 NAACP Image Awards (poetry category)

Wild Hundreds is a long love song to Chicago. The book celebrates the people, culture, and places often left out of the civic discourse and the travel guides. Wild Hundreds is a book that displays the beauty of black survival and mourns the tragedy of black death.
Praise For Wild Hundreds (Pitt Poetry Series)…
"In his powerful debut collection, winner of the 2014 Agnes Lynch Starrett Poetry Prize, Marshall explores the perils and praise songs of black lives on the South Side of Chicago. Much of the collection takes shape through the voice of a young black man navigating high school, family, friendships, and the physical and mental dangers that surround him as he strives toward manhood. Marshall, a coeditor of
The Breakbeat Poets
anthology, displays his talent for tight narrative snapshots throughout, particularly in poems such as "Indian summer," which makes use of searing, multifaceted imagery that challenges the reader to see the dangers of summer for young black Chicagoans and why they "pray for rain." The poem "Mama Says" deftly explores the toll of mental trauma experienced by Marshall's speaker as he attempts to reconcile the violent deaths of friends. Some poems struggle to do more than simply present raw emotion and experience, but these are small bumps in an otherwise impressive debut. Marshall's poetry offers an insider's perspective that asks the reader to parse the sociopolitical systems that imperil black lives—not through abstract ideology, but through authentically rendered eyes: "every kid that's killed is one less free lunch,/ a fiscal coup. welcome to where we from."
—Publishers Weekly
"In a nifty, memorable trick of wordplay, the last poem in Nate Marshall's rich first book is the same as the first, except in reverse. This form is a chiasmus, a highfalutin poetic name for the X, or sight of the cross. This is fitting because Marshall's book is about handshakes and code words, about crossing and re-crossing his home landscape, the Wild Hundreds, a neighborhood in far South Side Chicago between 100th and 130th streets. It's a landscape punctuated by fame, food and liquor and what Marshall calls the down-home migration taste of Harold's Chicken Shack. In Marshall's hands, it's also a place of ambition, ambition cut short, of love letters and hood words and pallbearers. Poems condense around what Marshall calls their percussive imperative, around bittersweet vignettes - trying to buy shoes, trying to graduate, trying to fit in at smart camp. . . . Reading Marshall, it's impossible not to remember Gwendolyn Brooks circling another South Side Chicago neighborhood in her 1945 classic, "A Street In Bronzeville." In that book, a collage of voices captures a neighborhood hemmed in by poverty and racism. In Marshall's work, the problems and the music are updated."
—Tess Taylor, NPR Book Reviews
"The Chicago that Nate Marshall evokes in
Wild Hundreds
is more than the sum of its shames and griefs and anxieties and break beats and scraped knuckles and smoking gun barrels and wild forgettings. It's the windows rolled down on a Saturday evening in August. It's that sweet old Curtis Mayfield Impressions song you hear out the window of a passing car, telling you to keep on pushing and it's all right."
—Best American Poetry
"A testament to home, to struggle, and to survival . . . a reminder of the places most people would rather forget. Marshall's poetry has such a rhythmic percussiveness, what I'd call a drumbeat leitmotif, which forces an urgency on each word in the collection. Marshall also shows a tremendous control of craft and form throughout the collection, seamlessly interweaving triptychs, couplets, and prose poems without feeling forced."
—Devil's Lake
"The dominant emotion of these poems is love, unquestionably. The word itself crops up often enough, but the feeling is present in nearly every verse, one way or another. . . All the poems have great energy and clarity. Rooted deeply in a particular place and set of experiences, they're nevertheless welcoming and accessible. There's a generosity in Marshall's voice, even at its most justifiably angry and uncompromising, that invites the reader to enter his world fully. These poems are never written from a distant or defensive stance, and thus they deliver a sense of intimacy and possibility. 'Ours is a long love song' is the collection's final line, and it seems to suggest, with wounded but hopeful inclusiveness, that the song of the Wild Hundreds is a song that belongs to us all."
—Chapter 16
"Nate Marshall uses high-energy diction to create convincing and moving urban scenes, perhaps as well as anyone has ever done in poetry."
—Ed Ochester, judge
"Life is repetition. Rhythm's in the gaps. Notice the vacant lot, these poems insist; the unsaid 'something about gin' in a narrative of one's Grandaddy and his relationship to the South Side; the 'garbage bags,' once filled with a beloved sister's things, suddenly 'absent from your room';  the wide caesura that represents 'all the chilling' a speaker—shaky eyed from Hennessy—'won't do.' Read these poems for the who, the what, the how that's missing, and discover a way out of no way as process. In
Wild Hundreds
, these breaks make a beat: 'a percussive imperative' that thumps love, love in spite of all, because of all, in the heart of this fine and tenderhearted debut."
—Lyrae Van Clief-Stefanon
"'The Hundreds' is a place, a people, and one way to define centuries. 'Wild' is an epithet-become-style. Ergo, Wild Hundreds is a style of centuries. If our third millennium lyric ever comes to terms with America, it will have to accommodate symbols and syntax once denigrated and dismissed. With his dynamic debut collection, Nate Marshall is making space. And it's wild."
—Patrick Rosal
University of Pittsburgh Press, 9780822963837, 80pp.
Publication Date: September 9, 2015
About the Author
Nate Marshall is from the South Side of Chicago. He is a Cave Canem Fellow whose work has appeared in Poetry Magazine, New Republic, Indiana Review, and elsewhere. He is coeditor of The BreakBeat Poets: New American Poetry in the Age of Hip-Hop. Marshall has won the Hurston/Wright Founding Members Award and the Gwendolyn Brooks Open Mic Award. He is a visiting assistant professor of English at Wabash College, a member of the poetry collective Dark Noise, and also a rapper.
Coverage from NPR