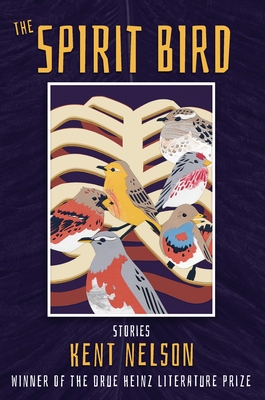 The Spirit Bird (Paperback)
Stories (Pitt Drue Heinz Lit Prize)
University of Pittsburgh Press, 9780822963875, 336pp.
Publication Date: September 11, 2015
Other Editions of This Title:
Hardcover (9/19/2014)
* Individual store prices may vary.
Description
Winner of the 2014 Drue Heinz Literature Prize

The flight path of The Spirit Bird traces many landscapes and different transitory lives. A young man scratches out a living from the desert; a woman follows a rarely seen bird in the far reaches of Alaska; a poor single mother sorts out her life in a fancy mountain town. Other protagonists yearn to cross a racial divide, keep developers from a local island, explore their sexuality, and mourn a lost loved one. The characters in this collection are compelled to seek beyond their own horizons, and as the stories unfold, the search becomes the expression of their desires. The elusive spirit bird is a metaphor for what we've lost, for what we hope for, and for what we don't know about ourselves.
About the Author
Kent Nelson is the author of the novels Language in the Blood and Land That Moves, Land That Stands Still. His short fiction has been included in The Best American Short Stories, The Best of the West, O. Henry, Pushcart, and The Best American Mystery Stories. An avid birdwatcher, Nelson has identified 757 North American species. After the age of fifty-four, he has twice run the Pikes Peak Marathon–26.3 miles, 7,815 feet up and down. He lives in Ouray, Colorado.
Praise For The Spirit Bird: Stories (Pitt Drue Heinz Lit Prize)…
"Nelson's story collection explores a number of lives and loves across a variety of geographies. Each story, whether about the man running his own movie business in the desert, the man who transforms from his normal self into a donkey in the blink of an eye, the woman struggling to deal with her unstable father, or the man exploring the further reaches of his sexuality, touches on the complexities and intricacies of personal relationships. . . . Nelson's stories show how humans become unsettled; how our spirits, hopes, and aspirations are always in a state of flux. Each plot turns on unexpected developments, which challenge our perceptions of reality. Together the stories act as a powerful chorus that speaks to the reader about love and loss, and overcoming obstacles."
—Publisher's Weekly
"Over a 35-year career, Nelson has garnered frequent widespread acclaim for his finely crafted short stories, which have been regularly featured in esteemed venues such as the 'O. Henry' and 'Pushcart' prize anthologies. His newest collection has won the 2014 Drue Heinz Literature Prize . . . Embracing a wide range of stirring themes and exotic backdrops, Nelson draws equally on his imagination and his own colorful experiences in 13 tales that are as moving as they are full of inspired surprises. . . . Nelson captivates his readers with finely nuanced prose that reaches into his characters' deepest feelings as they confront their unique personal misfortunes. Highly recommended."
—Booklist



 
"Nelson has a magical way of twisting ordinary descriptions of people and places and making them come alive for the reader. . . Highlights the desire to be whole and a reason to reach for more acceptance from other people and one's self. Wrapped within many layers of race, religion, and sexual orientation, the book looks at complicated narratives of real life issues and pushes the reader to react to these sometimes sad, sometimes hilarious stories by forming deeper bonds and connections to the characters."
—Coal Hill Review
"The Spirit Bird indicates a seasoned talent at work. It's a collection set in disparate geographies and touching on disparate lives, but it explores consistently the terrain of loneliness and yearning. One of its more impressive features is the way it artfully balances saying too much with saying too little. These stories open out instead of closing up. They're moving, which is hard to do, and surprising in the sense that we're unprepared for how they end.  I respect and admire TheSpirit Bird. It's the work of an author whose passionate immersion in life is evident on every page."
—David Guterson, author of Snow Falling on Cedars
 
"The Spirit Bird is a gift to readers. Its lush, gorgeous prose and deep intelligence create a surprising range of experience, in which characters navigate the terrains of the human heart with piercing elegance. The wideness of this author's vision seems capable of taking in anything, and reveals human loneliness and desire with memorable grace."
—Erin McGraw, author of The Good Life: Stories

 
"Kent Nelson has published more short stories than almost any other American writer in our time. His descriptions of land and light create perfect backgrounds for characters, both men and women, who struggle to find meaningful ways to live their lives. This new collection shows why he's so frequently published. It's simply because he's so good."
—Kent Haruf, author of Plainsong