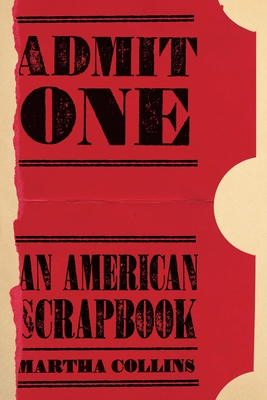 Admit One
An American Scrapbook (Pitt Poetry Series)
Paperback

* Individual store prices may vary.
Description
Praise for Martha Collins:
"A dazzling poet whose poetry is poised at the juncture between the lyric and ethics, Martha Collins has addressed some of the most traumatic social issues of the twentieth century . . . in supple and complex poems. . . .[N]o subject is off limits for her piercing intellect."
—Cynthia Hogue, AWP Chronicle
Praise For Admit One: An American Scrapbook (Pitt Poetry Series)…
"A strikingly original collection that combines brilliant storytelling and compelling commentary on ethics and race. The interwoven poems begin with the speaker's grandparents entering the 1904 St. Louis World's Fair, where technological advances and artistic marvels were proudly displayed, as were examples of 'inferior' human beings, such as Ota Benga, a Congolese Pygmy who was later housed in the primate exhibit of the new Bronx Zoo. The poems follow his short, sad life and the rise of Madison Grant, a hunter friend of Theodore Roosevelt who created the zoo. Grant later became a key proponent of the eugenics movement. Collins, who has published seven previous books of poetry, doesn't sensationalize the material. Exquisitely spare, these works recount some of the sinister moments of American history, quietly pushing readers to learn from those episodes and consider our collective responsibility for them. As she writes in Admit One: "hate to have to concede/ as evidence into the record/ we have to guilt mistake own/ as a right openly into."
—Washington Post
"An unflinching look at the underpinnings of racism in the U.S., via key figures who used science to defend sterilization, exploitation, discrimination, segregation, and dehumanization of nonwhites, whites not deemed white enough, and anyone 'less' than those with 'superior' genes. With the 1904 St. Louis World's Fair as a framework, Collins attempts to understand her family's experience of and participation in those times. Her poems are lists, definitions, newspaper pages, historical time lines, and biographical facts. These diverse poetic forms highlight the beauty of diversity itself. But Collins never lets up on the driving themes of unethical treatment and collective culpability. In fact, 'Postscript Three' punctuates this powerful collection with the vitriol still spewed and sensationalized, keeping racism depressingly alive in a supposedly advanced century."
—ALA Booklist
"Like any scrapbooker, Collins collects and assembles, and largely lets the scraps do the talking. But when she reveals to us the collector's hand, injecting the personal like handwritten notes in the margins, she reminds us that we are not merely witnesses to history. We are its participants, inheritors, and bloodline. This is what I want my students to feel, to have the historical brought to life and made personal. I may have been doing it wrong, but Collins' poetry offers a path in the right direction."
—masspoetry.org
 
"Collins goes past the paralyzing silence of white guilt and into the active language of implication. One feels in her work the compulsion to discover, and to confront. Poetry is the vehicle of response for Collins, and we are the richer for having the results of her grappling. She locates our country's legacy of racism in her own familial connections, therefore speaking from a position more like witness than judge."
—Solstice Magazine
"Collins' brilliantly disturbing verse leaves us with the grim hope that imperial whiteness can give way to incendiary witness."
—Radcliffe Magazine
University of Pittsburgh Press, 9780822964056, 104pp.
Publication Date: March 23, 2016
About the Author
In Admit One: An American Scrapbook, Martha Collins relentlessly traces the history of scientific racism from the 1904 St. Louis World's Fair through the eugenics movement of the 1920s. Using a wide variety of documentary sources, including her Illinois grandfather's newspaper, Collins constructs a "scrapbook" of fragments, quotations, narrative passages, and lyrical riffs that reveal startling connections between the Fair, the Bronx Zoo, and ideas that culminated in anti-immigration, anti-miscegenation, and eugenic sterilization laws in 1924. Among the book's recurring elements are evolving portraits of the "exhibited" African Ota Benga, the sterilization victim Carrie Buck, and the eugenicist Madison Grant, whose reach extended to Nazi Germany. Following the practice begun in her book-length poem Blue Front and continued in her exploration of race in White Papers, Collins combines careful research with innovative poetic techniques to create an arresting account of a segment of American history that haunts us even today. Admit One is a brilliant, troubling, necessary read.
Coverage from NPR