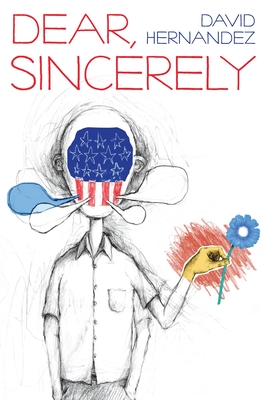 Dear, Sincerely (Pitt Poetry Series)
Paperback

* Individual store prices may vary.
Description
David Hernandez's Dear, Sincerely is his most intimate and dynamic collection to date, bringing the reader into poems that are simultaneously personal and universal, and sometimes political.  With his characteristic dreamlike imagery, inventive rhythms, and biting wit, Hernandez's voice reaches toward us with an accessible profundity.  Dear, Sincerely is an imaginative book that explores the Self, the collective We, the cosmos, and the murky division that separates one from the other.
Praise For Dear, Sincerely (Pitt Poetry Series)…
"By turns humorous, whimsical, and provocative, Hernandez arranges this book around epistolary salutations and valedictions, with titles like "Dear Professor" and "Dear Proofreader." . . . The best of these resemble Neruda's odes, in which everyday objects absorb human emotions to become perfectly personified. . . A curious, kaleidoscopic work of poetic  intelligence."
—Booklist
"Dear everyone, you should read David Hernandez's new book, because 'Dear, Sincerely' is a generous and inventive invitation to laughter. All of the poems in this collection possess the same qualities that great letters possess: they are entertaining and still honest, immediate, and intimate."
—Rain Taxi
"A monster book of poems. Hernandez is a monster poet. These love letters are giant poems cutting a big path right into your central nervous system, once there they'll reset the jog. Hernandez doesn't care about you, he will happily make you laugh or cry on whim with his wicked wit. A solid stream of great ideas rendered poetic."
—Today's Book of Poetry
"Hernandez writes in the voice of a mayfly at the end of his 24 hours on Earth. Doorknobs, mylar balloons, and team mascots get similarly imaginative attention in this spectacular collection."
—Santa Barbara Independent
"Do not let the fact that David Hernandez is one of the funniest poets at work today mislead you into thinking 'comic' poets can't also be learned, wise, socially aware, and capable of deep pathos. Hernandez possesses all these qualities—in abundance. His new book is nothing short of dazzling."
—David Wojahn
University of Pittsburgh Press, 9780822964070, 80pp.
Publication Date: March 1, 2016
About the Author
David Hernandez's most recent book of poetry, Hoodwinked, won the Kathryn A. Morton Prize in Poetry. His other books include Always Danger and A House Waiting for Music. He is also the author of two YA novels, No More Us for You and Suckerpunch. David teaches creative writing at California State University, Long Beach.