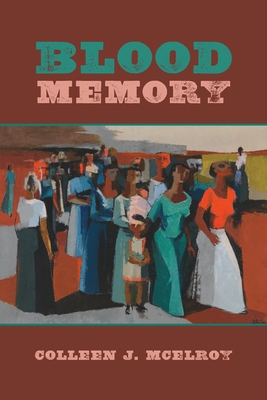 Blood Memory (Pitt Poetry Series) (Paperback)
University of Pittsburgh Press, 9780822964087, 128pp.
Publication Date: March 4, 2016
* Individual store prices may vary.
Description
Blood Memory, Colleen J. McElroy's collection of narrative poetry, emerges from deep seated memories with enormous emotion. Through the rhythms and musicality unique to McElroy's voice, it portrays an extended family, a complex culture spanning several decades, multiple victories and failures, and a single brilliant soul that frames the poems.  Dedicated to McElroy's mother, the book is universal in its scope, inescapable in its earthy particularity.  McElroy writes, "I am the last female of a family/ of women who wove the fabric/ of stories into doilies and slip covers…/" Blood Memory offers consummate storytelling and unforgettable poetry capturing a place and time gone forever. And as an evolving history, the poetry has a cinematic quality, large and intimate and at the same time, characters utterly vivid.
About the Author
Colleen J. McElroy is professor emeritus of English and creative writing at the University of Washington. She is the former editor in chief of the literary magazine Seattle Review and has published numerous poetry collections, most recently Here I Throw Down My Heart. Her latest collections of creative nonfiction include A Long Way from St. Louie and Over the Lip of the World: Among the Storytellers of Madagascar. She has received a PEN/Oakland National Literary Award, the Before Columbus American Book Award, two Fulbright Research Fellowships, two NEA Fellowships (in both fiction and poetry), a DuPont Visiting Scholar Fellowship, and a Rockefeller Fellowship.
Praise For Blood Memory (Pitt Poetry Series)…
"There is much to admire in Blood Memory, from the general impulse to preserve a family against the onslaught of time to the details of this particular African-American family in the twentieth-century heartland, to McElroy's style, at once spare and dense with incident and observation."
—The Potomac
"She is the last woman of her line. Her new poems end and begin with A. Phillip Randolph and Pullman Porters, her enjambments are Ma Rainey and Lawdy Miz Clawdy, her leading men are the last Black men on the planet named Isom, her major planets are porches and backroads. She is still the master storyteller to the 60 million of the Passage. When I didn't know how to be a poet, I first read Colleen McElroy to slowly walk the path to how."
—Nikky Finney
"There is music in her memory—a music of prayer. Moon. Stars. A music of generational flesh. Revered. Remembered. A testimonial to family that startles us with its beauty. And blood. 'Frozen in time as if with the next breath they will reveal everything under that mask.' Thank you, my dear sister, for our rescued memory."
—Sonia Sanchez