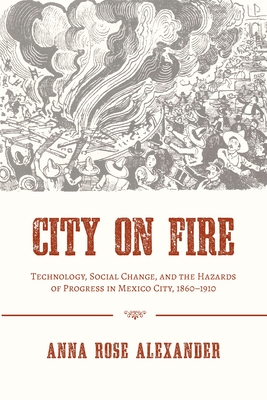 City on Fire
Technology, Social Change, and the Hazards of Progress in Mexico City, 1860-1910 (Pittsburgh Hist Urban Environ)
Paperback

* Individual store prices may vary.
Description
By the mid-nineteenth century, efforts to modernize and industrialize Mexico City had the unintended consequence of exponentially increasing the risk of fire while also breeding a culture of fear. Through an array of archival sources, Anna Rose Alexander argues that fire became a catalyst for social change, as residents mobilized to confront the problem. Advances in engineering and medicine soon fostered the rise of distinct fields of fire-related expertise while conversely, the rise of fire-profiteering industries allowed entrepreneurs to capitalize on crisis.
 
City on Fire demonstrates that both public and private engagements with fire risk highlight the inequalities that characterized Mexican society at the turn of the twentieth century.
Praise For City on Fire: Technology, Social Change, and the Hazards of Progress in Mexico City, 1860-1910 (Pittsburgh Hist Urban Environ)…
"Rather than treating technology such as fire-fighting equipment as an extrinsic factor whose arrival in Mexico was responsible for creating historical change, Alexander shows that municipal authorities and experts imported the technologies they found most valuable, ignored those practices and devices they had no use for, and invented those they could not find elsewhere. Her exemplary discussion to the interplay of domestic and foreign knowledge points the way to a practice-based approach to technology--one that suggests that, in matters of life and death, efficacy tends to trump national and conceptual boundaries."
—H-Net Reviews

"Alexander's work is impressive for its easy movement across issues that for many historians represent separate fields and subfields: public health and safety, the urban environment, the regulation of economic incentives and social control, city planning, the history of technology and engineering, science and medicine."
—Hispanic American Historical Review

"This  is not only the first book to focus on the role of fire in the modernization of Mexico City, it's also the best examination yet of the evolution of early fire protection anywhere in urban Latin America. Anna Alexander skillfully integrates urban history with histories of science, technology, and the built environment."
—Amy Greenberg, Pennsylvania State University

 "Flames leap off almost every page of Anna Alexander's powerfully written book as fire becomes a historical actor in its own right.  Simultaneously a history of fear, the rise of experts and regulation, technological change, and the urban environment, City on Fire charts the rise of an industrial fire regime as it holds in tension the privatization of responsibility and the public intervention generated to confront it."
—William French, University of British Columbia

"An engagingly written account of how an array of actors including doctors, engineers, film projectionists, match factory owners, insurance agents, and firefighters, responded to the presence of fire as an element of everyday life in a capital city.  Alexander provides surprising insights into the relationship between fear, social class, emerging capitalism, and the creation of urban space."
—Anton Rosenberg, University of Kansas

"Alexander's poignant capturing of the devastation caused by fire and the fear residents experienced effectively conveys how persistent and seemingly insoluble disaster resulted in the adoption of new technologies and policies that shaped modernizing cities of the nineteenth century in Mexico and beyond.  A compelling and engaging book."
—Steve Bunker, University of Alabama

"Alexander delivers a fascinating study of the effects that fires had on Mexico City during the second half of the nineteenth century.  She shows how daily disasters shaped sociopolitical struggles over modernity, including whose property was prioritized for protection, fire-fighting technologies, insurance, and innovations in burn-trauma medicine."
—Myrna Santiago, Saint Mary's College

"Alexander makes two especially important contributions to the historiography of Mexico: an original examination of the technological advances to fight fires and an analysis of the methods that doctors used to cure burns. . . . Alexander uses patent requests and shows how Mexican inventors created innovative devices and adapted others to fit local needs. . . . In the case of medicine, Alexander reminds us that centuries-old indigenous knowledge of plants, especially the matarique, were often appropriated by the established medical profession without acknowledging indigenous wisdom and practices."
—Sandra C. Mendiola Garcia, University of North Texas
 
University of Pittsburgh Press, 9780822964186, 216pp.
Publication Date: May 31, 2016
About the Author
Anna Rose Alexander is assistant professor of history at California State University, East Bay.