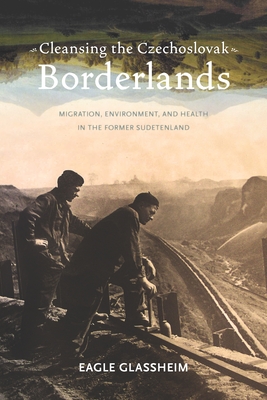 Cleansing the Czechoslovak Borderlands (Paperback)
Migration, Environment, and Health in the Former Sudetenland (Russian and East European Studies)
University of Pittsburgh Press, 9780822964261, 288pp.
Publication Date: November 18, 2016
* Individual store prices may vary.
Description
In this innovative study of the aftermath of ethnic cleansing, Eagle Glassheim examines the transformation of Czechoslovakia's Sudetenland from the end of the Second World War, through the Cold War, and into the twenty-first century.
            Prior to their expulsion in 1945, ethnic Germans had inhabited the Sudeten borderlands for hundreds of years, with deeply rooted local cultures and close, if sometimes tense, ties with Bohemia's Czech majority. Cynically, if largely willingly, harnessed by Hitler in 1938 to his pursuit of a Greater Germany, the Sudetenland's three million Germans became the focus of Czech authorities in their retributive efforts to remove an alien ethnic element from the body politic—and claim the spoils of this coal-rich, industrialized area. Yet, as Glassheim reveals, socialist efforts to create a modern utopia in the newly resettled "frontier" territories proved exceedingly difficult. Many borderland regions remained sparsely populated, peppered with dilapidated and abandoned houses, and hobbled by decaying infrastructure. In the more densely populated northern districts, coalmines, chemical works, and power plants scarred the land and spewed toxic gases into the air. What once was a diverse religious, cultural, economic, and linguistic "contact zone," became, according to many observers, a scarred wasteland, both physically and psychologically.
            Glassheim offers new perspectives on the struggles of reclaiming ethnically cleansed lands in light of utopian dreams and dystopian realities—brought on by the uprooting of cultures, the loss of communities, and the industrial degradation of a once-thriving region. To Glassheim, the lessons drawn from the Sudetenland speak to the deep social traumas and environmental pathologies wrought by both ethnic cleansing and state-sponsored modernization processes that accelerated across Europe as a result of the great wars of the twentieth century.
About the Author
Eagle Glassheim is professor of history at the University of British Columbia. He is the author of Noble Nationalists: The Transformation of the Bohemian Aristocracy.
Praise For Cleansing the Czechoslovak Borderlands: Migration, Environment, and Health in the Former Sudetenland (Russian and East European Studies)…
"Glassheim's personal and powerful treatment argues that understanding past loss can help build positive human communities in the present and future."
—Choice
 
"In his innovative new monograph, Eagle Glassheim traces how ethnic cleansing and runaway utopian modernism combined to demographically and ecologically ravage the formerly German Sudetenland." 
—European History Quarterly 
 
"What happened to the Sudetenland, and its German-speaking inhabitants after the expulsions of 1945-1948? In this pioneering study Eagle Glassheim presents a compelling set of answers, tracing multiple strands of the story on all sides of the post-1945 borders, as huge numbers of refugees challenged East and West German governments and their fragile post-war societies, while also demonstrating how its new inhabitants came to see the region as home."
—Pieter M. Judson, European University Institute
"A pathbreaking study of the intersection of ethnic cleansing and environmental devastation in postwar Czechoslovakia. Glassheim demonstrates how the mass expulsion of Germans after World War II transformed the landscape itself, as their former villages were remade into laboratories for Socialist industrialization. Both ethnic cleansing and environmental degradation, he argues, reflected the Socialist state's determination to transform populations and places in the name of "modernization" and "progress." Necessary reading for anyone interested in the history of the environment or forced migration in East Central Europe and beyond."
—Tara Zahra, author of The Great Departure: Mass Migration from Eastern Europe and the Making of the Free World
"How can historians find a "usable past," beyond a cautionary tale of the price of national conflict, of the post-war ethnic cleansing of Central Europe? By reckoning the cost of this project, Glassheim seeks to provide us with a different narrative--one that calls into question the destructive nation-building and modernizing romanticism of the last century, and one that bridges divisions between Czechs, Germans, and others damaged by efforts to create a cleansed, modernized nation-state." 
—American Historical Review
"Czech borderlands are a darkly fascinating landscape. Eagle Glassheim is not the first author who has succumbed to the borderlands' somewhat morbid charm and to the complexity and richness of their history; but he might well be the first one who has tried to bring all the facets of the borderlands' recent history together in one narrative. In Cleansing the Czechoslovak Borderlands, he combines political, economic, social, cultural, intellectual, and environmental history."
—Environment and History
 
Cleansing the Borderlands is an engaging, well-researched and thought-provoking book. Its originality lies chiefly in the intertwining of environmental and health studies with more conventional political approaches to the subject of ethnic cleansing. Especially refreshing is its stress on the parallels, rather than the differences, on both sides of the Iron Curtain. This is a book that will find a welcome place on many undergraduate and postgraduate reading lists.
—Central European History
or
Not Currently Available for Direct Purchase