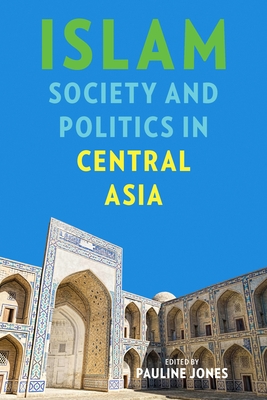 Islam, Society, and Politics in Central Asia (Central Eurasia in Context)
Paperback

* Individual store prices may vary.
Description
During the 1990s, there was a general consensus that Central Asia was witnessing an Islamic revival after independence, and that this occurrence would follow similar events throughout the Islamic world in the prior two decades, which had negative effects on both social and political development. Twenty years later, we are still struggling to fully understand the transformation of Islam in a region that's evolved through a complex and dynamic process, involving diversity in belief and practice, religious authority, and political intervention. This volume seeks to shed light on these crucial questions by bringing together an international group of scholars to offer a new perspective on Central Asian states and societies.
            The chapters provide analysis through four distinct categories: the everyday practice of Islam across local communities; state policies toward Islam, focusing on attempts to regulate public and private practice through cultural, legal, and political institutions and how these differ from Soviet policies; how religious actors influence communities in the practice of Islam, state policies towards the religion, and subsequent communal responses to state regulations; and how knowledge of and interaction with the larger Islamic world is shaping Central Asia's current Islamic revival and state responses.
            The contributors, a multidisciplinary and international group of leading scholars, develop fresh insights that both corroborate and contradict findings from previous research, while also highlighting the problem of making any generalizations about Islam in individual states or the region. As such, this volume provides new and impactful analysis for scholars, students, and policy makers concerned with Central Asia.
Praise For Islam, Society, and Politics in Central Asia (Central Eurasia in Context)…
"This edited volume is an exceptional addition vis-a-vis the study of Islam in Central Asia. It provides numerous insights into the ways Islamic ideology interacts with society and the nation-state building efforts undertaken by countries of the region. . . . The book has immense value for Central Asian studies, and it will benefit academics and researchers as well as policymakers and students focusing on Central Eurasia."  
—Acta Via Serica

"Islam, Society, and Politics in Central Asia tackles a topic of crucial concern for scholars and policymakers alike. Moving well beyond the punditry that characterizes most discussions, this truly interdisciplinary endeavor provides much-needed scholarship about Islam built upon well-considered fieldwork. In doing so, it makes a powerful case for grounding our knowledge in the realities of the region."
—Edward Schatz, University of Toronto
University of Pittsburgh Press, 9780822964278, 392pp.
Publication Date: May 16, 2017
About the Author
Pauline Jones is professor of political science and director of the International Institute at the University of Michigan. She is the author of Oil is Not a Curse: Ownership Structure and Institutions in Petroleum-Rich Soviet Successor States, The Transformation of Central Asia: States and Societies from Soviet Rule to Independence, and Institutional Change and Political Continuity in Post-Soviet Central Asia: Power, Perceptions, and Pacts.