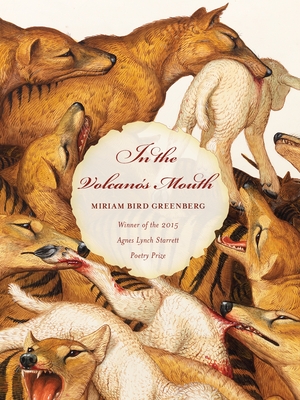 In the Volcano's Mouth (Pitt Poetry Series)
Paperback

* Individual store prices may vary.
Description
Winner of the 2015 Agnes Lynch Starrett Poetry Prize
Winner of the 2017 Bob Bush Memorial Award for Best First Book of Poetry from the Texas Institute of Letters
Miriam Bird Greenberg's stunning first collection, which roves across a lush, haunting rural America both real and imagined, observed from railyards and roadsides, evokes the world of myth ("I'd spent my childhood / in a house made of bees; on hot days honey // dripped through cracks in the ceiling," she writes). Yet these capacious, exquisitely tensioned poems are rooted in Greenberg's experiences hitchhiking and hopping freight trains across North America, or draw from her informal interviews with contemporary nomads, hobos, and others living on society's edges. Beneath their surface runs a current of violence, whether at the hands of fate or men: she writes "Everyone knows // what happens to women // who hitchhike, constantly // trying a door to the other world made of lake / bottom or low forest, abandoned house // even wild animals / have rejected." The result is a queering of On the Road, a feminist Frank Stanford at once vulnerable and canny. Richly textured, In the Volcano's Mouth is an extraordinary portrait of life on the enchanted margins.
Praise For In the Volcano's Mouth (Pitt Poetry Series)…
"These poems do what the best poetry sometimes does: reveal and deepen our understanding of the strangeness in the ordinary. And do so in language clear as a bell."
—Ed Ochester, judge

"In the Volcano's Mouth is rich with mysterious and heartrending images. Miriam Bird Greenberg blends scraps of the harshness of life, of what would be ugly in less skillful hands, with the beautiful, even beatific. These are poems that are acutely aware of the world: The flame / of a match that flares / at the tip of his cigarette / before he draws in his breath /d eepens the darkness / that falls just beyond / his illuminated face. Paul Eluard wrote, 'There is another world and it is in this one.' These poems give us a glimpse into that world. They are poems I will come back to for inspiration."
—Ellen Bass 

"Although many of the poems in this haunted book are 'pastoral' in a classical sense, the natural world is not a place of peace and serenity. Rather, it's unstable, not a setting devoid of meaning, but a realm where meaning is always on the move, like the many characters wandering through this book, and the mind of the poet who has carefully made this book. These villagers aren't solemnly strolling around the edge of Keats's urn. The wandering here cannot find its larger purpose, a dilemma not uncommon in our age. I sense a twenty-first century Exodus, and a people going nowhere they know and nowhere they want to be long."
—Maurice Manning
University of Pittsburgh Press, 9780822964339, 112pp.
Publication Date: October 11, 2016
About the Author
Miriam Bird Greenberg is the author of two chapbooks: All Night in the New Country andPact-Blood, Fevergrass. She teaches creative writing and English as a second language. Greenberg has been honored with fellowships from the National Endowment for the Arts, the Provincetown Fine Arts Work Center, and The Poetry Foundation. Her work has appeared in Poetry, the Missouri Review, and in the anthologies Best New Poets 2014 and The Queer South. A former Wallace Stegner Fellow, she lives in the San Francisco Bay area.