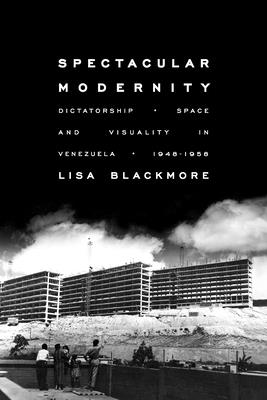 Spectacular Modernity (Paperback)
Dictatorship, Space, and Visuality in Venezuela, 1948-1958 (Pitt Illuminations)
University of Pittsburgh Press, 9780822964384, 240pp.
Publication Date: April 24, 2017
* Individual store prices may vary.
Description
Winner of  the Fernando Coronil Prize for best book about Venezuela, awarded by the Venezuelan Studies Section of LASA.

In cultural history, the 1950s in Venezuela are commonly celebrated as a golden age of modernity, realized by a booming oil economy, dazzling modernist architecture, and nationwide modernization projects. But this is only half the story. In this path-breaking study, Lisa Blackmore reframes the concept of modernity as a complex cultural formation in which modern aesthetics became deeply entangled with authoritarian politics. Drawing on extensive archival research and presenting a wealth of previously unpublished visual materials, Blackmore revisits the decade-long dictatorship to unearth the spectacles of progress that offset repression and censorship. Analyses of a wide range of case studies—from housing projects to agricultural colonies, urban monuments to official exhibitions, and carnival processions to consumer culture—reveal the manifold apparatuses that mythologized visionary leadership, advocated technocratic development, and presented military rule as the only route to progress. Offering a sharp corrective to depoliticized accounts of the period, Spectacular Modernity instead exposes how Venezuelans were promised a radically transformed landscape in exchange for their democratic freedoms.
About the Author
Lisa Blackmore is a postdoctoral researcher at the University of Zurich and will join the school of philosophy and art history at the University of Essex as a lecturer in art history and interdisciplinary studies in 2017. She has taught at the University of Leeds, Universidad Simón Bolívar, and Universidad Central de Venezuela, and is coeditor of the forthcoming volume El Helicoide: From Futuristic Mall to Panoptic Prison.
Praise For Spectacular Modernity: Dictatorship, Space, and Visuality in Venezuela, 1948-1958 (Pitt Illuminations)…
"In a present that scorns the dictatorship of Marcos Pérez Jiménez, the underlying framework of modernization that characterized it retains surprising traction. Blackmore's Spectacular Modernity is a beautiful and engaging text that deploys an aesthetic and political analysis of the dictatorship's transformation of space to explain why this is. She makes an undeniable contribution to studies of Venezuela and modernity more broadly, and offers a sharp warning to those who might turn back the democratic clock in search of an elusive modernity."
—George Ciccariello-Maher, Drexel University
"Spectacular Modernity is an in-depth study of the relationship between dictatorial power and the production of the modern imaginary of Venezuela. Blackmore's book is a groundbreaking contribution to scholarship on mid-twentieth century modernization in Latin America."
—Patricio del Real, Harvard University
"Between 1948 and 1958, Venezuela's modernity, Blackmore argues, was spectacular: it centered on the development of work that visibly expressed progress and innovation while masking coercive and undemocratic dictatorial practices that could hinder what was essential to the development of the nation."
—Choice
"Blackmore's book offers fresh critical light on modernization and is an engaging, discipline-spanning study of politics, aesthetics, space, and subjectivity that will benefit many audiences and debates."
—Bulletin for Latin American Research 
"To tell the story of mid-twentieth century Venezuela, Blackmore stitches together politics, economics, architecture, infrastructure, and visual culture."  
—European Review of Latin American and Caribbean Studies
or
Not Currently Available for Direct Purchase