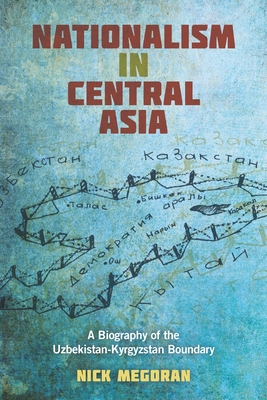 Nationalism in Central Asia
A Biography of the Uzbekistan-Kyrgyzstan Boundary (Central Eurasia in Context)
Paperback

* Individual store prices may vary.
Description
Nick Megoran explores the process of building independent nation-states in post-Soviet Central Asia through the lens of the disputed border territory between Uzbekistan and Kyrgyzstan. In his rich "biography" of the boundary, he employs a combination of political, cultural, historical, ethnographic, and geographic frames to shed new light on nation-building process in this volatile and geopolitically significant region.
            Megoran draws on twenty years of extensive research in the borderlands via interviews, observations, participation, and newspaper analysis. He considers the problems of nationalist discourse versus local vernacular, elite struggles versus borderland solidarities, boundary delimitation versus everyday experience, border control versus resistance, and mass violence in 2010, all of which have exacerbated territorial anxieties. Megoran also revisits theories of causation, such as the loss of Soviet control, poorly defined boundaries, natural resource disputes, and historic ethnic clashes, to show that while these all contribute to heightened tensions, political actors and their agendas have clearly driven territorial aspirations and are the overriding source of conflict. As this compelling case study shows, the boundaries of the The Ferghana Valley put in succinct focus larger global and moral questions of what defines a good border.
Praise For Nationalism in Central Asia: A Biography of the Uzbekistan-Kyrgyzstan Boundary (Central Eurasia in Context)…
'"Biographies' of political borders yield fresh insights on nationalism, argues Megoran in this morally compelling, multi-layered work. With over two decades of local language fieldwork, he weaves a thick account of the troubled boundary between two post-Soviet Central Asian states, showing how 'interethnic conflict' actually results from particular internal political decisions."
—Morgan Y. Liu, The Ohio State University

"The sharp edges of political geography have always been state borders. Megoran has written a terrific, grounded biography on one of these sharp edges, a border that has carved interconnected places apart and destroyed lives as it has remade states and power structures in the Ferghana Valley and Central Asia more broadly. It is compelling reading."
—Gerard Toal, Virginia Tech University

A valuable addition to Central Asian studies and the contextual understanding of nationalism in the region.
—Acta Via Serica
University of Pittsburgh Press, 9780822964421, 368pp.
Publication Date: September 5, 2017
About the Author
Nick Megoran is lecturer in political geography at Newcastle University, UK.