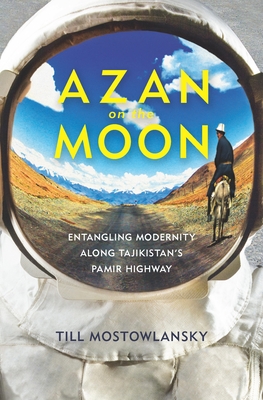 Azan on the Moon
Entangling Modernity along Tajikistan's Pamir Highway (Central Eurasia in Context)
Paperback

* Individual store prices may vary.
Description
Azan on the Moon is an in-depth anthropological study of people's lives along the Pamir Highway in eastern Tajikistan. Constructed in the 1930s in rugged high-altitude terrain, the road fundamentally altered the material and social fabric of this former Soviet outpost on the border with Afghanistan and China. The highway initially brought sentiments of disconnection and hardship, followed by Soviet modernization and development, and ultimately a sense of distinction from bordering countries and urban centers that continues to this day.
            Based on extensive fieldwork and through an analysis of construction, mobility, technology, media, development, Islam, and the state, Till Mostowlansky shows how ideas of modernity are both challenged and reinforced in contemporary Tajikistan. In the wake of China's rise in Central Asia, people along the Pamir Highway strive to reconcile a modern future with a modern past. Weaving together the road, a population, and a region, Azan on the Moon presents a rich ethnography of global connections.
Praise For Azan on the Moon: Entangling Modernity along Tajikistan's Pamir Highway (Central Eurasia in Context)…
"Azan on the Moon is a landmark contribution to the anthropology of modernity. Meticulously researched and lucidly written, Mostowlansky's subtle analysis of the afterlives of Soviet developmentalism along the Trans-Pamir Highway shows how 'modernity' itself becomes a central figure through which Pamiris navigate economic change, religious reform, and political marginalization at the turn of the millennium." —Madeleine Reeves, University of Manchester

"Places that we consider remote and disconnected look different to those who live in them. Skillfully drawing on life and road trips in the Pamirs, Azan on the Moon is an inviting book that offers us an enchanting ethnography. There are numerous lessons here for scholars working at other intersections of mobility, culture, geopolitics, and nature." —James D. Sidaway, National University of Singapore

"Mostowlansky writes sagaciously when explaining recondite theory and lucidly when describing notions wedded to identity, values, and ideologies. He describes his settings and encounters vividly." —Slavic Review 

"An academic but highly readable book focusing on one of the world's greatest roads . . . effectively unpicks the orientalist views of outsiders who paint the landscape as a wildly romantic one." —Calvert Journal
University of Pittsburgh Press, 9780822964438, 224pp.
Publication Date: April 18, 2017
About the Author
Till Mostowlansky is a postdoctoral fellow at the Hong Kong Institute for the Humanities and Social Sciences at The University of Hong Kong, and a research associate at the Universities of Bern and Sussex.
or
Not Currently Available for Direct Purchase