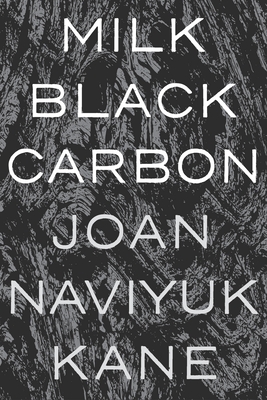 Milk Black Carbon (Pitt Poetry Series) (Paperback)
University of Pittsburgh Press, 9780822964513, 72pp.
Publication Date: January 25, 2017
* Individual store prices may vary.
Description
Milk Black Carbon works against the narratives of dispossession and survival that mark the contemporary experience of many indigenous people, and Inuit in particular. In this collection, autobiographical details – motherhood, marriage, extended family and its geographical context in the rapidly changing arctic – negotiate arbitrary landscapes of our perplexing frontiers through fragmentation and interpretation of conventional lyric expectations.
About the Author
Joan Naviyuk Kane is the author of The Cormorant Hunter's Wife, Hyperboreal, and The Straits. Her awards include the Whiting Writer's Award, the Donald Hall Prize in Poetry, the American Book Award, the Alaska Literary Award, and fellowships from the Rasmuson Foundation, the Native Arts and Cultures Foundation, and the School for Advanced Research. Kane is a faculty mentor in the MFA program at the Institute of American Indian Arts in Santa Fe, New Mexico. She is Inupiaq, with family from King Island and Mary's Igloo, and lives in Anchorage, Alaska.
Praise For Milk Black Carbon (Pitt Poetry Series)…
"Milk Black Carbon is at once a brilliant work of lyric art and a decoding of knowledges written 'in the dark cursive of a wolf / circling on sea ice.' Kane's is a vertiginous sensibility, chiseled into language in a precarious time, as the rising seas 'rephrase us.' She writes in English and Inupiaq Eskimo, toward a horizon of radical futurity, against nostalgia, with awareness that there is no turning back. This is a twenty-first-century poetry, urgent, necessary, and of its time."
—Carolyn Forché
"The black ink of a strong, strong hand. A rare and real word-world, mind-muscled into serious relief, stopped into dream and meaning."
—Olena Kalytiak Davis
"Her latest book of poetry contains themes of motherhood and the relationships between land and peoples, and ever present is her unmatched mastery of form and language. . . . Unique to Milk Black Carbon is the palpable sense of urgency throughout the poems."
—Jen Rose Smith