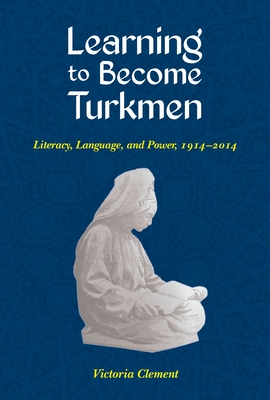 Learning to Become Turkmen
Literacy, Language, and Power, 1914-2014 (Central Eurasia in Context)
Paperback

* Individual store prices may vary.
Description
Learning to Become Turkmen examines the ways in which the iconography of everyday life—in dramatically different alphabets, multiple languages, and shifting education policies—reflects the evolution of Turkmen society in Central Asia over the past century. As Victoria Clement shows, the formal structures of the Russian imperial state did not affect Turkmen cultural formations nearly as much as Russian language and Cyrillic script. Their departure was also as transformative to Turkmen politics and society as their arrival.

Complemented by extensive fieldwork, Learning to Become Turkmen is the first book in a Western language to draw on Turkmen archives, as it explores how Eurasia has been shaped historically. Revealing particular ways that Central Asians relate to the rest of the world, this study traces how Turkmen consciously used language and pedagogy to position themselves within global communities such as the Russian/Soviet Empire, the Turkic cultural continuum, and the greater Muslim world.
Praise For Learning to Become Turkmen: Literacy, Language, and Power, 1914-2014 (Central Eurasia in Context)…
"Learning to Become Turkmen is unique in several respects. There are very few books in English on the history of Turkmens and Turkmenistan, and no other book-length treatment of its language and culture. Clement does an excellent job of broadening the analysis to make it relevant to scholars beyond the handful of 'Turkmenologists' in Western academia." —Adrienne Lynn Edgar, University of California, Santa Barbara, author of Tribal Nation: The Making of Soviet Turkmenistan
 

"In her 100-year history of Turkmenistan, Clement explores how religious leaders, intellectuals and officials sought to define and create a modern Turkmen identity.  . . . remarkable for its use of sources in Turkmen, Russian, and Turkish, and because there are few scholarly works in English on modern Turkmenistan." —Choice

"Victoria Clement's account of 'the concepts of modernity, power, identity, and literacy' among Turkmenistan's diverse population since the early-twentieth century offers a rare insight. Aspirations to modernity in its nationalist, Soviet, and post-Soviet iterations define the historical and contemporary transformations that she explores." —Mustafa Tuna, Slavic Review

"Learning to Become Turkmen is an outstanding scholarly achievement, presenting the academic community and the informed public with a revealing interpretation that addresses many of the questions that continue to frame our view of Turkmenistan. Thanks to Victoria Clement, the cloud of disinformation that surrounds this fascinating country is certainly less impenetrable." —Europe-Asia Studies
 
University of Pittsburgh Press, 9780822964636, 302pp.
Publication Date: May 11, 2018
About the Author
Victoria Clement is a regional analyst for Professional Solutions at the Center for Advanced Operational Culture Learning at Marine Corps University whose research focuses on Central Asia and Turkey, with an emphasis on Turkmenistan. She is a former research fellow at the Woodrow Wilson Center for International Scholars in Washington, DC, and former professor at the Naval Postgraduate School in Monterey, CA. Clement is a founding member of the Central Eurasian Studies Society.