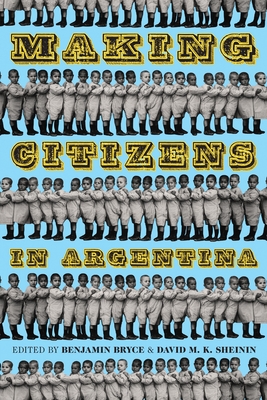 Making Citizens in Argentina (Pitt Latin American Series)
Paperback

* Individual store prices may vary.
Description
Making Citizens in Argentina charts the evolving meanings of citizenship in Argentina from the 1880s to the 1980s. Against the backdrop of immigration, science, race, sport, populist rule, and dictatorship, the contributors analyze the power of the Argentine state and other social actors to set the boundaries of citizenship. They also address how Argentines contested the meanings of citizenship over time, and demonstrate how citizenship came to represent a great deal more than nationality or voting rights. In Argentina, it defined a person's relationships with, and expectations of, the state. Citizenship conditioned the rights and duties of Argentines and foreign nationals living in the country. Through the language of citizenship, Argentines explained to one another who belonged and who did not. In the cultural, moral, and social requirements of citizenship, groups with power often marginalized populations whose societal status was more tenuous. Making Citizens in Argentina also demonstrates how workers, politicians, elites, indigenous peoples, and others staked their own claims to citizenship.
Praise For Making Citizens in Argentina (Pitt Latin American Series)…
"This exciting volume will become required reading not only in courses relating to the history of Argentina, but also in those surrounding citizenship in a cross-cultural perspective. I am impressed by the quality of essays and the breadth of topics that touch upon how not only states, but also diverse groups have pushed for changes in definitions.  Bounded by identities rooted in immigration, gender, science, political parties, and nationalism, this book forces the reader to conceptualize national identities, and hence, national history at its core."
—Donna Guy, Ohio State University

"This volume, an important contribution on a subject that until recently had rarely been explored so systematically, constitutes further evidence of the recent productive transformations in the historiography of twentieth-century Argentina."
—Hispanic American Historical Review
 
University of Pittsburgh Press, 9780822964896, 272pp.
Publication Date: June 19, 2017
About the Author
Benjamin Bryce is an Assistant Professor in the Department of History at the University of Northern British Columbia. He is the author of To Belong in Buenos Aires: Germans, Argentines, and the Rise of a Pluralist Society (Stanford University Press, 2018). He is also the coeditor of Entangling Migration History: Borderlands and Transnationalism in the United States and Canada (University Press of Florida, 2015).
 
David M. K. Sheinin is professor of history at Trent University. He is the author of Consent of the Damned: Ordinary Argentinians in the Dirty War, the editor of Sports Culture in Latin American History, and the author or editor of several of other books. In 2005, he was appointed a member of the Argentine National Academy of History (the only Canadian ever so designated).