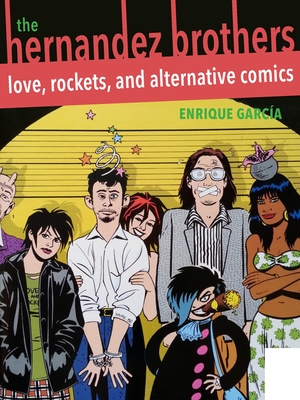 The Hernandez Brothers
Love, Rockets, and Alternative Comics (Latinx and Latin American Profiles)
Paperback

* Individual store prices may vary.
Description
This study offers a critical examination of the work of Gilbert and Jaime Hernandez, Mexican-American brothers whose graphic novels are highly influential. The Hernandez brothers started in the alt-comics scene, where their 'Love and Rockets' series quickly gained prominence. They have since published in more mainstream venues but have maintained an outsider status based on their own background and the content of their work. Enrique García argues that the Hernandez brothers have worked to create a new American graphic storytelling that, while still in touch with mainstream genres, provides a transgressive alternative from an aesthetic, gender, and ethnic perspective. The brothers were able to experiment with and modify these genres by taking advantage of the editorial freedom of independent publishing. This freedom also allowed them to explore issues of ethnic and gender identity in transgressive ways. Their depictions of latinidad and sexuality push against the edicts of mainstream Anglophone culture, but they also defy many Latino perceptions of life, politics, and self-representation. The book concludes with an in-depth interview with Jaime and Gilbert Hernandez that touches on and goes beyond the themes explored in the book.
Praise For The Hernandez Brothers: Love, Rockets, and Alternative Comics (Latinx and Latin American Profiles)…
"Enrique García presents a cutting-edge, graphic narrative project that situates the work of the Hernandez Brothers in twentieth and early twenty-first century American print, literary, and popular culture. He contextualizes them in terms of their comic and literary contemporaries, and dynamically summarizes key elements of their storytelling history."
—William Nericcio, San Diego State University

"This excellent study of the popular alternative Latino comics by Los Bros Hernandez focuses on storytelling, themes, visual representation, and narrative techniques in these important comics and graphic novels. It examines the negotiations of ethnic identity, latinidad, and gender and sexuality, offering close readings of selected texts to undergird the analysis. Students of language, literature, art, ethnic studies, cultural studies, and U.S. Latino studies will enjoy this book." —Ellen McCracken, University of California, Santa Barbara

"Em todo caso, pelo conjunto da obra, torna-se desde já uma referência obrigatória a todo pesquisador interessado em compreender a história recente das articulações entre arte, política e identidades culturais nas HQs latino-americanas. . . . E o livro em si é criativo do ponto de vista narrativo e de sua organização interna, ao mesclar entrevistas e assumir a experiência pessoal como componente relevante para justificar o trabalho, na medida em que García posiciona-se como um fã de revistas e graphic novel." —Latin American Research Review
 

"Hernandez is an eminently digestible introduction to a body of work that continues to be hugely influential within both Latino cultural production and the world of comics. . . .García skillfully addresses some of the problematic aspects of the fictional universe of the Hernandez brothers, not least the treatment of gender and sexuality. And he deftly handles the ways—sometimes very different ways—that each brother creates comics that both fit within and also interrogate Latino history and culture. The book is a welcome addition to both comics studies and Latino studies." —The Americas
 

"Garcia's book on the Hernandez Brothers most obviously walks the line between two writing styles and, potentially, would be the one beloved most equally by both the professorate and serious comic book fans. . . .Garcia is able to appeal equally to informed comics readers, students, and serious scholars alike." —Latin Studies
 

"A much-needed introductory book to the work of these established Latino comic writers." —Revista Hispánica Moderna
 

"The Hernandez Brothers: Love, Rockets, and Alternative Comics . . . O livro expressa a um só tempo o amadurecimento e as possibilidades narrativas do estudo de HQs." —Latin American Research Review
University of Pittsburgh Press, 9780822964926, 192pp.
Publication Date: June 16, 2017
About the Author
Enrique García is associate professor of Spanish at Middlebury College. He is the author of Cuban Cinema After the Cold War.
or
Not Currently Available for Direct Purchase