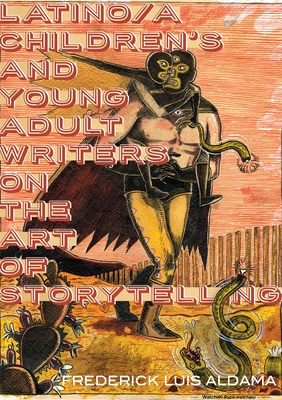 Latino/a Children's and Young Adult Writers on the Art of Storytelling (Latinx and Latin American Profiles) (Paperback)
University of Pittsburgh Press, 9780822964971, 248pp.
Publication Date: March 23, 2018
* Individual store prices may vary.
Description
Children's and young adult literature has become an essential medium for identity formation in contemporary Latino/a culture in the United States. This book is an original collection of more than thirty interviews led by Frederick Luis Aldama with Latino/a authors working in the genre. The conversations revolve around the conveyance of young Latino/a experience, and what that means for the authors as they overcome societal obstacles and aesthetic complexity. The authors also speak extensively about their experiences within the publishing industry and with their audiences. As such, Aldama's collection presents an open forum to contemporary Latino/a writers working in a vital literary category and sheds new light on the myriad formats, distinctive nature, and cultural impact it offers. 
 
About the Author
Frederick Luis Aldama is Arts & Humanities Distinguished Professor and University Distinguished Scholar at The Ohio State University. He is the author, coauthor, or editor of thirty books, and the editor or coeditor of seven book series. Aldama is the founder and director of the LASER/Latinx Space for Enrichment Research, which received the White House Hispanic Bright Spot award. Aldama is the recipient of the American Association of Hispanics in Higher Education's Outstanding Latino/a Faculty in Higher Education Award as well as the Alumni Award for Distinguished Teaching. In 2017 he was inducted into the Academy of Teaching.
 
Praise For Latino/a Children's and Young Adult Writers on the Art of Storytelling (Latinx and Latin American Profiles)…
"These insightful, widely ranging interviews showcase the defining children's and YA Latina/Latino writers and illustrators of our time. They speak about tapping the magic of story, taking risks, crafting identity; about crossing or defying or blurring the borders of language and experience. Aldama's scholarship brings vital cultural and artistic realities to the page for the benefit of all those who care about young readers."
—Uma Krishnaswami, author of Book Uncle and Me
 
"Alongside an elegant and thoughtful introduction, Aldama has provided us with a superbly illuminating set of interviews with some of this century's most innovative and challenging writers.  He sheds new light on the incredibly rich ideas and vision of Latino and Latina artists and writers and guides our reading with compelling questions."
—Mary Pat Brady, Cornell University
"If you love stories, prepare for a very special treat. In this volume, you will encounter Latino/a authors and artists who tell the stories that led to their artistic creations—the long journeys they have taken to open a space for Latino work, for Latino voices, for Latino ways of engaging the world. In Aldama's deeply informative and moving interviews, we come face to face with the rich creative spirits that have given rise to a perfect feast of Latino/a children's and young adult fiction, nonfiction, and art"
—Andrea Lunsford, Emerita, Stanford University.
 
"Aldama, along with all the authors included in this volume, have been reading and listening to stories told by young and old in homes, neighborhoods, and churches. This book reminds all of us to do the same and to consider the learning and reading lives of young people ordinarily left out of consideration in the literature of children and young adults. Creative depth, intellectual yearning, and vibrant imaginations shine through the wisdom of this book. Every reader should read these pages and take up the charge to spread this wisdom in every way possible."
—Shirley Brice Heath, Emerita, Stanford University
 
or
Not Currently Available for Direct Purchase