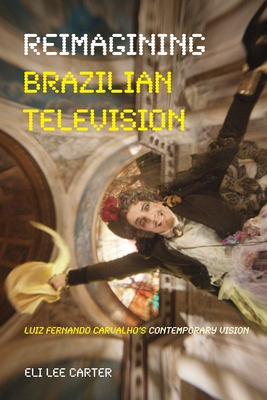 Reimagining Brazilian Television (Paperback)
Luiz Fernando Carvalho's Contemporary Vision (Latinx and Latin American Profiles)
University of Pittsburgh Press, 9780822964988, 288pp.
Publication Date: April 5, 2018
* Individual store prices may vary.
Description
The Brazilian television industry is one of the most productive and commercially successful in the world. At the forefront of this industry is TV Globo and its production of standardized telenovelas, which millions of Brazilians and viewers from over 130 countries watch nightly. Eli Lee Carter examines the field of television production by focusing on the work of one of Brazil's greatest living directors, Luiz Fernando Carvalho. Through an emphasis on Carvalho's thirty-plus year career working for TV Globo, his unique mode of production, and his development of a singular aesthetic as a reaction to the dominant telenovela genre, Carter sheds new light on Brazilian television's history, its current state, and where it is going—as new legislation and technology push it increasingly toward a post-network era.
About the Author
Eli Lee Carter is assistant professor of Portugese at the University of Virginia. 
Praise For Reimagining Brazilian Television: Luiz Fernando Carvalho's Contemporary Vision (Latinx and Latin American Profiles)…

"Eli Carter brings the unique, colorful, and imaginative work of Luiz Fernando Carvalho to international attention. This Brazilian film and television director deserves to be known and seen outside of Brazil for his brilliantly baroque and antirealist theatrical style. Carvalhos's TV series draw on elements from other arts such as theater, literature, and painting, ultimately creating a special sense of space and time. The book results from carefully conducted research on the visual qualities of the work, but it also approaches the key processes of preparation for shooting."
—Esther Hamburger, University of Sao Paulo, Brazil
"A groundbreaking discussion about the work Luiz Fernando Carvalho, one of the most imaginative artists in the Brazilian audiovisual field. Carter's book considers all of Carvalho's successful and polemical career, analyzing the innovations he brought to the small and the big screen and revealing the intricate interconnections between television, film, literature, theater, and politics in contemporary Brazil."
—Hélio Guimarães, University of Sao Paulo
"A timely contribution to the important but neglected topic of authorship in cultural industries like television. Calling for greater insight into the aesthetics of television, Eli Lee Carter's book offers a richly textured account of the professional practices that govern commercial Brazilian television, particularly Globo Television Network, and the major role filmmaker-turned-television director Luiz Fernando Carvalho has played in shaping the aesthetic conventions of prime-time serialized dramas and series produced by the network in recent years. A must read for scholars and nonscholars alike wishing to understand the nature and quality of contemporary Brazilian commercial television."
—Cacilda Rego, Utah State University
or
Not Currently Available for Direct Purchase