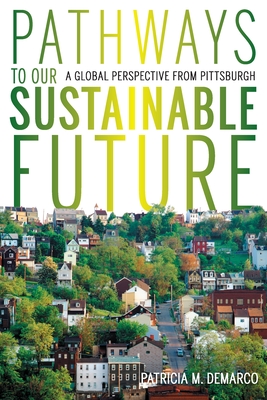 Pathways to Our Sustainable Future
A Global Perspective from Pittsburgh
Paperback

* Individual store prices may vary.
Description
Pittsburgh has a rich history of social consciousness in calls for justice and equity. Today, the movement for more sustainable practices is rising in Pittsburgh. Against a backdrop of Marcellus shale gas development, initiatives emerge for a sustainable and resilient response to the climate change and pollution challenges of the twenty-first century. People, institutions, communities and corporations in Pittsburgh are leading the way to a more sustainable future.
            Examining the experience of a single city, with all of its social and political complexities and long industrial history, allows a deeper understanding of the challenges and opportunities inherent in adapting to a changing world. Choices for more sustainable pathways for the future include transforming the energy system, restoring infertile ground, and preventing pollution through green chemistry production. Throughout the book, case studies responding to ethical challenges give specific examples of successful ways forward. Inspired by Rachel Carson's voice of precaution in protecting the Earth, this is a book about empowerment and hope.
 
Praise For Pathways to Our Sustainable Future: A Global Perspective from Pittsburgh…
"Patricia DeMarco has been a tireless advocate of sustainability in the City of Pittsburgh for many years. Through the leadership and guidance she exemplifies, Pittsburgh has become a model for urban centers everywhere in creating sustainable practices for present and future generations. This book serves as an outstanding guide to successful public and private partnerships that can lead these efforts going forward."
—Mayor William Peduto, City of Pittsburgh

"Patricia DeMarco dissects the enormous and global challenge we face using coherent frames and salient examples. She lets us conceive the scope of this challenge yet feel confident that we can address it. Weaving together science, spirituality, ethics, justice, and hard-nosed political analysis, DeMarco reinvigorates Rachel Carson's timeless message of environmental wellbeing for new audiences."
—David Hassenzahl, President, Association of Environmental Studies and Sciences

"Can Pittsburgh, whose steel mills and blast furnaces helped to power America's industrial era a century ago now be a catalyst in creating a clean, prosperous, just and healthy future? DeMarco starkly lays out the disastrous course along which humanity is steering planet Earth. But she shows an alternative pathway and presents myriad examples how the transformation of Pittsburgh can lead toward sustainability for all."
—David Blockstein, chief scientist, National Council for Science and the Environment
University of Pittsburgh Press, 9780822965015, 328pp.
Publication Date: September 25, 2017
About the Author
Patricia M. DeMarco is a visiting research professor at Carnegie Mellon University and a senior scholar at Chatham University in Pittsburgh. She is also a former executive director of the Rachel Carson Homestead Association and director of the Rachel Carson Institute at Chatham University. DeMarco has spent a thirty-year career in energy and environmental policy in both private and public sector positions, and currently serves as councilwoman for the Borough of Forest Hills, Pennsylvania. In 2017 she was honored with the Freudenburg Lifetime Achievement Award from the Association for Environmental Studies and Sciences.
or
Not Currently Available for Direct Purchase