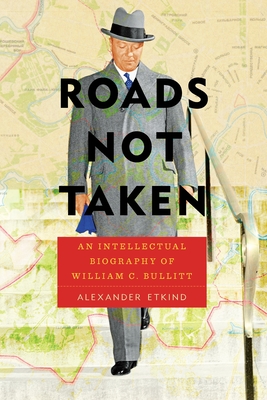 Roads Not Taken (Paperback)
An Intellectual Biography of William C. Bullitt (Russian and East European Studies)
University of Pittsburgh Press, 9780822965039, 264pp.
Publication Date: November 9, 2017
* Individual store prices may vary.
Description
A journalist, diplomat, and writer, William Christian Bullitt (1891–1967) negotiated with Lenin and Stalin, Churchill and de Gaulle, Chiang Kai-shek and Goering. He took part in the talks that ended World War I and those that failed to prevent World War II. While his former disciples led American diplomacy into the Cold War, Bullitt became an early enthusiast of the European Union. From his early (1919) proposal of disassembling the former Russian Empire into dozens of independent states, to his much later (1944) advice to land the American troops in the Balkans rather than in Normandy, Bullitt developed a dissenting vision of the major events of his era. A connoisseur of American politics, Russian history, Viennese psychoanalysis, and French wine, Bullitt was also the author of two novels and a number of plays. A friend of Sigmund Freud, Bullitt coauthored with him a sensational biography of President Wilson. A friend of Bullitt, Mikhail Bulgakov depicted him as the devil figure in The Master and Margarita. Taking seriously Bullitt's projects and foresights, this book portrays him as an original thinker and elucidates his role as a political actor. His roads were not taken, but the world would have been different if Bullitt's warnings had been heeded. His experience suggests powerful though lost alternatives to the catastrophic history of the twentieth century.
            Based on Bullitt's unpublished papers and diplomatic documents from the Russian archives, this new biography presents Bullitt as a truly cosmopolitan American, one of the first politicians of the global era. It is human ideas and choices, Bullitt's projects and failures among them, that have brought the world to its current state.
About the Author
Alexander Etkind is professor of history at the European University Institute in Florence, Italy. He previously taught at the European University at St. Petersburg, Russia, and at Cambridge University, where he was a fellow of King's College and professor of Russian literature and cultural history. He is the author of numerous books, including, most recently, Warped Mourning: Stories of the Undead in the Land of the Unburied and Internal Colonization: Russia's Imperial Experience.
 
Praise For Roads Not Taken: An Intellectual Biography of William C. Bullitt (Russian and East European Studies)…
"An informative biography of diplomat William C. Bullitt, a name not commonly associated with the foundation of the American Cold War policy but should be. . . . Although Bullitt fell out of favor with the Roosevelt administration during World War II, his influence spread to diplomats such as George Kennan and Charles Bohlen, both of whom served under Bullitt in Moscow. This personal narrative will interest scholarly and casual readers ... Highly recommended for those seeking a satisfying biography and those who want a better understanding of American-Russian relations."
—Library Journal (starred review)
"Bullitt steered through life like the kind of cabbie you hope to avoid: now jabbing the gas, now stomping the brake, all the while monologuing away. It's no wonder that such a man would catch the interest of biographers. In Roads Not Taken, a slender new edition to the corpus of Bullitt books, Alexander Etkind argues that previous treatments of the man and his life have left some blanks and blind spots, and sets about trying to fill them.

We see Bullitt and his young attaches locked in le Carre-ish maneuvers with Stalin's secret police, sitting up nights with revolvers, setting electrical traps in the hallways, at least until the electricity is cut off. There is also, more kaleidoscopically, the gigantic and barely believable party that Bullitt threw at the embassy for 500 guests, featuring baby goats, a drunken bear, a Czech jazz band and enough tawdry spectacle to furnish Bulgakov all the material he needed for the Satan's Ball scene of The Master and Margarita--down to Bullitt himself presiding in the figure of Woland, the devil. . . . That kind of life makes a rich subject for a biography."
—The Wall Street Journal
"Bullitt came full circle, from supporting the Revolution to supporting containment. Most of his adult life was spent combining the skills and drawbacks of an analyst, a prophet, and Cassandra. In this sympathetic biography, Alexander Etkind, offers a psychoanalytic reading of his subject, but his more conventional summary of William Bullitt also rings true: brilliant and bitter."
—The Times Literary Supplement 
"A brilliant portrait of one of the most important American diplomats of the twentieth century. A man of immense charm, a friend and savior of Freud and his family in 1938, an admirer of Russia and witness to the horror of the purges, a figure turned into fiction by Bulgakov, Bullitt comes to life in Etkind's remarkable book. Essential reading for all students of twentieth-century Europe and the European-American embrace."
—Jay Winter, Yale University
"Etkind makes Bullitt's sidelights into his centerpiece. . . . The result is a refreshing look at a man we thought we knew, but did not really know or understand: a complex, creative, and influential individual whose meaning and role in history is much more than that of a diplomat in Moscow." 
—The Russian Review