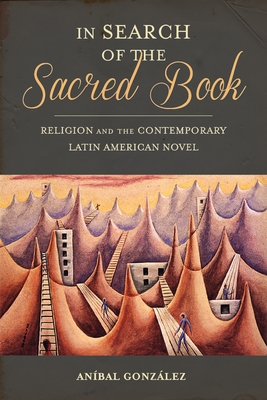 In Search of the Sacred Book (Paperback)
Religion and the Contemporary Latin American Novel (Pitt Illuminations)
University of Pittsburgh Press, 9780822965046, 224pp.
Publication Date: April 12, 2018
* Individual store prices may vary.
Description
In Search of the Sacred Book studies the artistic incorporation of religious concepts such as prophecy, eternity, and the afterlife in the contemporary Latin American novel. It departs from sociopolitical readings by noting the continued relevance of religion in Latin American life and culture, despite modernity's powerful secularizing influence. Analyzing Jorge Luis Borges's secularized "narrative theology" in his essays and short stories, the book follows the development of the Latin American novel from the early twentieth century until today by examining the attempts of major novelists, from María Luisa Bombal, Alejo Carpentier, and Juan Rulfo, to Julio Cortázar, Gabriel García Márquez, and José Lezama Lima, to "sacralize" the novel by incorporating traits present in the sacred texts of many religions. It concludes with a view of the "desacralization" of the novel by more recent authors, from Elena Poniatowska and Fernando Vallejo to Roberto Bolaño.
About the Author
Anibal Gonzalez is professor of modern Latin American literature in the department of Spanish and Portuguese at Yale University. He is the author of numerous books and several translations. His recent publications include Love and Politics in the Contemporary Spanish American Novel and a critical edition of Redentores by Manuel Zeno Gandia. Gonzalez is the founder and general editor of the Bucknell Studies in Latin American Literature and Theory Series at Bucknell University Press, and former general editor of the Cambridge Studies in Latin American and Iberian Literature Series of Cambridge University Press.
Praise For In Search of the Sacred Book: Religion and the Contemporary Latin American Novel (Pitt Illuminations)…
"We have read the Latin American novel as reconfigurations of history, ethnological recoveries, and political interventions, but we neglected to look at the powerful undercurrents of belief, faith, and epiphanic vision that are a true dimension of their inner creativity. González and his book of revelations discover that poetic knowledge has shaped their storytelling with epiphanies and transfiguration. Nothing of the human experience was estranged to these fictions, not even religion."
—Julio Ortega, Brown University
"González, one of his generation's most accomplished scholars of Spanish American literature, offers a remarkable, erudite, and imaginative rereading of the region's modern fiction, with the compelling argument that, culminating with the Boom, the novel aspired to a reader experience comparable to effects generated by what many cultures regard as 'sacred texts,' only to critique and dismantle these aspirations in the late twentieth century and new millennium."
—Vicky Unruh, University of Kansas
"Gonzalez's framing of Latin American narrative covers significant ground."
—Choice 
"González examines how religion gives the novel a greater aesthetic, intellectual, and spiritual transcendence while suggesting that novelists have been involved in a process of sacralization of their creation since that time. In other words, they attempted to turn their narratives into transcendental historical accounts or works of art by creating a text that synthesized the two models."
—Hector Weir,
Hispania