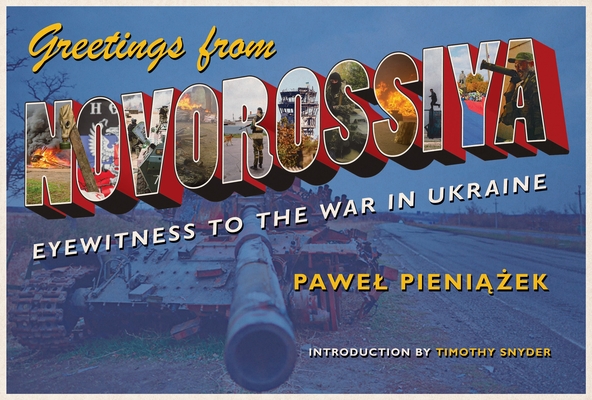 Greetings from Novorossiya
Eyewitness to the War in Ukraine (Russian and East European Studies)
Paperback

* Individual store prices may vary.
Description
Introduction by Timothy Snyder

Polish journalist Pawel Pieniazek was among the first journalists to enter the war-torn region of eastern Ukraine and Greetings from Novorossiya is his vivid firsthand account of the conflict. He was the first reporter to reach the scene when Russian troops in Ukraine accidentally shot down a civilian airliner, killing all 298 people aboard. Unlike Western journalists, his fluency in both Ukrainian and Russian granted him access and the ability to move among all sides in the conflict. With powerful color photos, telling interviews from the local population, and brilliant reportage, Pieniazek's account documents these dramatic events as they transpired.

This unique firsthand view of history in the making brings to life the tragedy of Ukraine for a Western audience. Historian Timothy Snyder provides wider context in his superb introduction and explores the significance of this ongoing conflict at the border of East and West.
 
Praise For Greetings from Novorossiya: Eyewitness to the War in Ukraine (Russian and East European Studies)…
"Pieniazek provides an excellent rendition of the intense, strange atmosphere that prevailed in 2014 Ukraine, complete with descriptions of trains full of corpses from the downed Malaysian airliner, the corrupt political circus in the people's republics, and the infiltration of the country by the now-familiar phenomenon of 'fake news.' A lively and detailed account."
—Publishers Weekly

"There was no Orwell of the Ukrainian revolution, but readers of Paweł Pieniążek will get something like the everyday grit and political insight of Homage to Catalonia."
—Timothy Snyder, from the introduction

"To understand recent events in Ukraine, this book is an absolute must. But it also provides an understanding of what the future may hold; while Ukraine is breaking with its Soviet past and becoming globalized, the world is in danger of becoming "Ukrainized." In this new "post-truth" epoch, the words of a brave young Polish journalist testify that the facts still matter."
—Yaroslav Hrytsak, Ukrainian Catholic University

"Pieniazek has a wonderful eye and ear for details that are mundane in themselves, yet portray a great deal. . . . While his sympathies are clear--he succeeds at letting other people, along with his observations, do most of the talking." 
—The Russian Review
 

"Essential reading for anyone who wants to understand how Russia's covert war in Ukraine began. From his firsthand experience at the front, Pieniążek describes the blurred lines that define Russia's new approach to war making and the stark consequences for its neighbors."
—Simon Ostrovsky, Emmy-winning documentary filmmaker and journalist

"This is some of the best reportage from a little-understood war. Pieniazek's stories reveal the tragedy of hybrid war in the age of post-truth: people are being killed in fact for reasons that are fiction."
—Marci Shore, Yale University, author of The Taste of Ashes: The Afterlife of Totalitarianism in Eastern Europe
 
University of Pittsburgh Press, 9780822965107, 224pp.
Publication Date: November 20, 2017
About the Author
Pawel Pieniazek is a Polish journalist. He is a contributor to major Polish media, including Tygodnik Powszechny, Gazeta Wyborcza, Dziennik Opinni, and New Eastern Europe, and is a freelance contributor to Polish radio. In 2015 he was named as a Poynter Fellow in Journalism at Yale University.
 
or
Not Currently Available for Direct Purchase