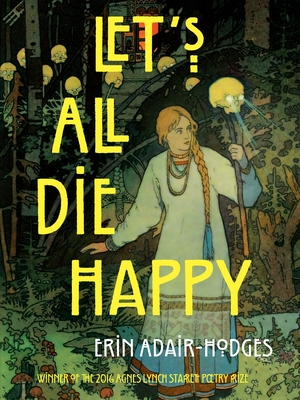 Let's All Die Happy (Pitt Poetry Series) (Paperback)
University of Pittsburgh Press, 9780822965145, 112pp.
Publication Date: October 23, 2017
* Individual store prices may vary.
Description
Winner of the 2016 Agnes Lynch Starrett Poetry Prize
About the Author
Erin Adair-Hodges is visiting assistant professor of creative writing at the University of Toledo and is the co-creator and curator of the Bad Mouth Reading Series. Her poems have appeared in the Kenyon Review, the Georgia Review, Boulevard, and Green Mountains Review, among other venues. Winner of the Loraine Williams Poetry Prize, she has also been a Bread Loaf Rona Jaffe scholar, and has received awards from the Rockland Residency and The Writer's Hotel.
Praise For Let's All Die Happy (Pitt Poetry Series)…
"Uncertainty, disappointment, and patriarchy pervade a landscape of lost dreams and unexpected realities in Adair-Hodges's gloriously sardonic debut, winner of the 2016 Agnes Lynch Starrett Poetry Prize. In this collection, a person does not habituate to loneliness but instead becomes "a scientist inventing/ new ways to be lonely"; aging feels "like a bouquet of Mondays,// the alarm going off though we just fell/ asleep"; and looming despair inspires one to go for runs "not for health or happiness but// to prepare for the apocalypse." In addition to being grimly humorous, Adair-Hodges can cast undiluted darkness upon subjects as she deems fit, such as her rendering of the male gaze as an omniscient demon ("I'm being pressed/ against a mirror so hard I can't see/ myself, just the dark center of my eye/ pulling me in like I'm being unborn") and her innate desire for redemption: "Imagine this poem is my hand/ opening. Imagine this the grenade in your chest:/ pin in my teeth. I want you to hurt/ and I want to know about it." It's a gritty and bewitching collection that revels in its vulnerability; Adair-Hodges incisively translates visceral emotions into tangible imagery while remaining emotionally fluid and preserving the integrity of her sorrow."
—Publishers Weekly (starred review)
"What's most impressive in this powerful book is the female speaker's voice—it's striking because what it says is often unexpected, surprising, and exactly right."
—Ed Ochester, judge
"Here in Let's All Die Happy we encounter a voice that is insightful, confident, and deliciously specific. In poems of dark domesticity, this book speaks to both the anchoring and erasure that come with mothering: 'Some weeks/ no one says my first name, no one's/ tongue flicks the last letter out.' It's a remarkable debut."
—Maggie Smith
"With 'a tube sock of doom' and 'lifeboats with lions,' Erin Adair-Hodges uses a searing wit and a boundless reservoir of heart to expertly navigate the complexities of family histories and American anxieties. This is stunning debut collection. Always urgent, nuanced and deeply felt, Let's All Die Happy has something important to show us about being alive."
—Matthew Olzmann