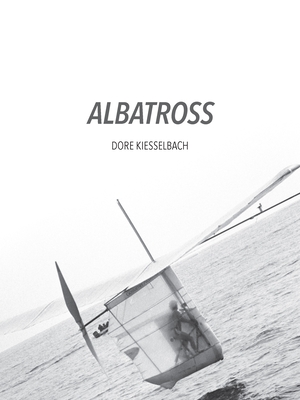 Albatross (Pitt Poetry Series) (Paperback)
University of Pittsburgh Press, 9780822965176, 80pp.
Publication Date: November 24, 2017
* Individual store prices may vary.
Description
Dore Kiesselbach's second collection Albatross views the events of September 11th as a physicist might examine high-energy particles in a supercollider. In the book's central section, Kiesselbach, who worked three blocks from the World Trade Center and was an eyewitness, deconstructs the cultural hyperbole of that extraordinary day in a series of intimate portraits that dovetail elsewhere with a wider examination of violence in the everyday lives of individuals, families, and nations.  While neither blaming victims, nor succumbing to despair, the book urges reflection on the roles we each play in our own harm.  Like its namesake, the human-powered aircraft flown across the English Channel in 1979, Albatross invites readers to push forward into headwinds—public and private—and make for the far shore.
 
About the Author
Dore Kiesselbach's first collection, Salt Pier, won the Agnes Lynch Starrett Poetry Prize and contains work chosen for the Robert H. Winner Memorial Award from the Poetry Society of America and Britain's Bridport International Writing Prize in poetry.  Kiesselbach has published poetry and prose in many magazines and anthologies, including AGNI, Antioch Review, FIELD, Plume, and Poetry. 
 
Praise For Albatross (Pitt Poetry Series)…
"Kiesselbach has given us a collection of poetry that requires more than one read, not for the ability to understand, but to explore the many layers, to explore the intensity of Kiesselbach's poetry."
—North of Oxford
"Blazing with honesty, unsettled and unsettling, Dore Kiesselbach's poems challenge us in surprising ways. Sometimes abrupt or cryptic, they reward our rereading and pondering. A calm voice and steady attention are always present, creating trust and affection, as this poet explores difficult subjects and experiences, transforming them through the power of his art."
—David Young
"In Albatross, Dore Kiesselbach's poems are tugged between the poles of intimacy and distance, nature and culture. There's the acknowledgment of personal regret as well as the wonder of human-powered flight. I love these poems: they are written with a biologist's precision, and they are honest and outward-gazing, uplifting and oh so humane."
—Katrina Vandenberg
"These stunning poems feel carved onto the page as the poet recounts traumas—from family violence, to 9/11, to corporate crimes—to give us a portrait of America in our time. Chilling in their precision, and ultimately heartbreaking, these ambitious poems are multidimensional and unrelenting. If there can be mercy in this 'loneliness economy,' Kiesselbach finds it."
—Anne Marie Macari