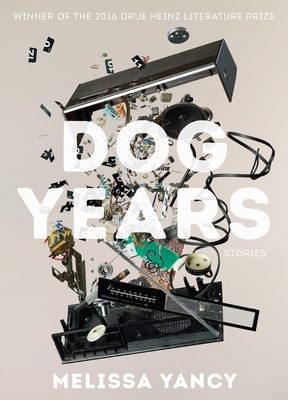 Dog Years (Pitt Drue Heinz Lit Prize)
Paperback

* Individual store prices may vary.
Other Editions of This Title:
Hardcover (10/5/2016)
Description
Winner of the 2016 Drue Heinz Literature Prize
Winner of the 2017 California Book Awards, first fiction category

Many of these richly layered stories juxtapose the miracles of modern medicine against the inescapable frustrations of everyday life: awkward first dates, the indignities of air travel, and overwhelming megastore cereal aisles. In "Go Forth," an aging couple attends a kidney transplant reunion, where donors and recipients collide with unexpected results; in "Hounds," a woman who runs a facial reconstruction program for veterans nurses her dying dog while recounting the ways she has used sex as both a weapon and a salve; and in "Consider This Case," a lonely fetal surgeon caring for his aesthete father must reconsider sexuality and the lengths people will go to have children.
            Melissa Yancy's personal experience in the milieus of hospitals, medicine, and family services infuse her narratives with a rare texture and gravity. Keenly observant, offering both sharp humor and humanity, these stories explore the ties that bind—both genetic and otherwise—and the fine line between the mundane and the maudlin. Whether the men or women that populate these pages are contending with illness, death, or parenthood, the real focus is on time and our inability to slow its progression, reminding us to revel in those moments we can control.
Praise For Dog Years (Pitt Drue Heinz Lit Prize)…
"In her debut story collection, Yancy breaks through her characters' surfaces of isolation and pretense to explore the uncharted yet universal depths of human emotion. Opening with the title story, a vignette about a couple, both geneticists, grappling with their son's muscular dystrophy in the midst of their own professional research on the subject, the author focuses on subjects that walk a fascinating line between deeply private struggle and performative interactions with the outside world. Her characters are wrapped up in their own lives, defined in some way by a significant but not all-encompassing facet of themselves until they are shaken from their complacency. In "Consider This Case," a fetal surgeon finds companionship when his dying father comes to live with him. "Hounds" goes behind the scenes of facial reconstructive surgery and the way it becomes fodder for the public, confronting a darkness not captured by the TV cameras. In "Miracle Girl Grows Up," a woman who spent her childhood being treated for cancer comes face to face with her own past and potential future when a love interest refuses to let her withdraw her attention. "Teeth Apart" finds a woman seated across the table from her past and future, forced to reconcile the two existences she had separated into one whole. All these stories, many of which center on the medical industry, are meticulously wrapped up in layers of interiority, awareness of the outside gaze, and what it means to straddle the public and the private. The author's characters are deeply flawed but not irredeemable; they are delightfully and infuriatingly human, sympathetic without invoking pity, and complex without being inscrutable. Subtle but powerful, this collection is a moving portrait of what it means to be seen and to see ourselves."
—Kirkus Reviews

"The nine stories in this promising collection explore the shifting concepts of health and wellness in the modern world, in the drab laboratories of disease researchers, sanitized operating rooms, and the picturesque mountains of Davos, Switzerland. The title story poignantly explores the minutiae of raising a terminally ill child, examining how illness can seep into even the smallest moments. In "Firstborn," a Francophile accidentally invites the wrong niece on a much-needed vacation to Paris, only for the niece to abscond the night before the trip. An advocate for injured veterans wrestles with her affections for a general (a man with "no face") in "Hounds." A disgraced businesswoman enrolls in a cheap (and bizarrely effective) self-help regimen in "The Program™." Yancy deftly navigates the rarely seen backstage of the betterment industry, lightening the often heavy subject matter with welcome injections of irony and humor. The collection's cumulative effect is heartening and lasting."
—Publishers Weekly

"Yancy's strength lies in her ability to so thoroughly inhabit her characters that we come to know them better than we may know ourselves. Moments of interiority reveal truths, and they dig deep, allowing us to the see the people beneath their veneers. In just a sentence or two, a story can get at the heart of a character."
—Ploughshares

 

"Yancy weaves the professional with the personal, creating strong characters who rise to the challenges of life no matter the illness or personal traits. These are stories of strengh and although they deal with illness, there is no pity, but there are no superheroes either. These complex characters come to life with dynamic yet flawed lives."
—North of Oxford

"A collection you end up feeling a serious admiration for, moved by Yancy's stubborn audacity to reveal her characters so nakedly and, more broadly, at her incredibly sharp eye."
—The Brooklyn Rail

"This inteeligent and deeply felt collection of short stories uses the limitations and changes of the human body to explore the even more profound questions of time, purpose, possibility, and the need for hope, or at least the occasional lie."
—Best New Fiction
 

"Rich, smart, and humorously moving . . . Astonishing in the emotional range embodied in its characters . . . these realist stories, told largely in the third person, often read as nuanced portraits. Perhaps what's most arresting about 'Dog Years' is Yancy's ability to create the quiet within each character--the moments of hesitation, of disappointment, of silent resolve--with such beautiful, understated exactness. Yancy excels at creating vulnerability in her characters and depicting it with compassion, while serving it to readers with sometimes a wryness or familiar nod."
—Waxwing Literary Journal

"The smart, intricate, carefully crafted stories in Dog Years reminded me of Lauren Groff's Delicate, Edible Birds for both their ambition and extraordinary beauty."
—Richard Russo, judge
University of Pittsburgh Press, 9780822965190, 240pp.
Publication Date: October 24, 2017
About the Author
Melissa Yancy'sshort fiction has appeared in One Story, Glimmer Train, Zyzzyva, and other publications. She is the recipient of a 2016 NEA Literature Fellowship. Stories from Dog Years have won the Glimmer Train Fiction Open, the Missouri Review Jeffrey E. Smith Editors' Prize, and received special mention in the Pushcart Prize. Yancy lives in Los Angeles where she works as a fundraiser for healthcare causes.
or
Not Currently Available for Direct Purchase