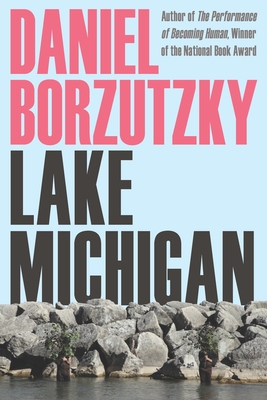 Lake Michigan (Pitt Poetry Series)
Paperback

* Individual store prices may vary.
Description
Finalist for the 2019 Griffin Poetry Prize

From the author of The Performance of Becoming Human, winner of the National Book Award for poetry

Lake Michigan, a series of 19 lyric poems, imagines a prison camp located on the beaches of a Chicago that is privatized, racially segregated, and overrun by a brutal police force. Thinking about the ways in which economic policy, racism, and militarized policing combine to shape the city, Lake Michigan's poems continue exploring the themes from Borzutzky's Performance of Becoming Human, winner of the National Book Award for Poetry. But while the influences in this book (Césaire, Vallejo, Neruda) are international, the focus here is local as the book takes a hard look at neoliberal urbanism in the historic city of Chicago.  Named a 2018 Best Book of the Year by the New York Public Library. 
Praise For Lake Michigan (Pitt Poetry Series)…
"I am vehemently protective of my native city—its rollicking history and gritty glories are legion. But it is also sweltering, blade-edged and murderous, with brown people squarely in its gunsights. Borzutzky's surreal and terrifying lakeside dreamscape—sparked by the real-world specter of the city's infamous 'blacksite' interrogation warehouse—is deftly crafted and chilling in its proximity to the real." —Patricia Smith
"A searing indictment and an immediate, dangerous, and urgent work."
—Booklist
"Borzutzky's streamlined and unequivocally defiant follow-up to 2016's National Book Award-winning
The Performance of Becoming Human
unfolds across the streets of Chicago and along the shores of Lake Michigan, where he situates a fictionalized version of the Chicago PD's once-secret interrogation sites. Composed in long, proselike lines, this work explicitly places itself in the tradition of protest poetry. Police brutality is a major theme, both as occasion for protest and enacted. . . . Authorities repeatedly attempt to normalize their brutality, claiming that this is "only war," that it is, "only the beginning of war." Borzutzky engages with a history specific to Chicago, but the beach becomes a symbolic border zone where people suffer at the hands of capitalist power and, crucially, search for the means to fight back."
—Publisher's Weekly
"With indignation and discipline, Daniel Borzutzky gives voice to those actions and objects in the U.S. media landscape and to the barbarism enacted by our nation's security machine. In the process, he realigns poetic forces to the branching patterns of language, to the convulsions of ritual theater, and to the political life of dead bodies."
—Roberto Tejada
"Daniel Borzutzky follows up his 2016 National Book Award-winning debut with a deeply haunting extrapolation of current events, a vision of America in which 'They said I was an illegal immigrant who roamed the streets in a gang.' The 'I' could be anyone, the 'they' anyone else. This is our present nightmare cast as a rambling, sometimes droning dramatic monologue for countless voices that proclaim 'Investigator #41 ... / ... / ... asked me what I did on the internet' and admit, taking responsibility on everyone's behalf, "It's not enough to feel shame/ It's not enough to starve/ It's not enough to be dead when others are more dead." According to Borzutzky, we are all responsible for the current state of the union."
—NPR, Craig Morgan Teicher
"If you've not yet read his poetry, you should begin now, with
Lake Michigan
." 
—Lynn Domina
"Daniel Borzutzky's stark poetic depiction of a world in the grips of an Orwellian police state, no less surreal than William Burroughs, no less byzantine and corrupt than Franz Kafka. . . . is a necessary book." 
—Into the Void Magazine
University of Pittsburgh Press, 9780822965220, 88pp.
Publication Date: February 9, 2018
About the Author
Daniel Borzutzky is a poet and translator, and the author of The Performance of Becoming Human, winner of the 2016 National Book Award for Poetry. His other books include In the Murmurs of the Rotten Carcass Economy, Memories of My Overdevelopment, and The Book of Interfering Bodies. His translation of Galo Ghigliotto's Valdivia won the 2017 National Translation Award. Other translations include Raúl Zurita's The Country of Planks and Song for His Disappeared Love; and Jaime Luis Huenun's Port Trakl. He lives in Chicago.