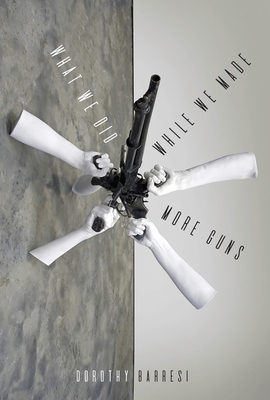 What We Did While We Made More Guns (Pitt Poetry Series) (Paperback)
University of Pittsburgh Press, 9780822965237, 104pp.
Publication Date: March 1, 2018
* Individual store prices may vary.
Description
The poems in What We Did While We Made More Guns investigate the place where economic failure meets a widening acculturation of violence—a kind of Great Acceleration of soul extinction set in this spectacularly uneasy moment in American history. Cutting, comic, sorrowful, at times terrified, at times resolute, the poems tilt along the high cliff's edge of identity anxiety and American moral uncertainty, where each of us plays our part in the business of dispossession or resistance.  Building themselves out of jazzed-up verbal velocities and wounded (in)sincerity, the poems counsel resilience against all forms of battery, mortal, spiritual, financial. They are pattern-makers in the dark. They talk back to God. They take into themselves what cannot be taken back: the news that forty-six million Americans have "slipped" below the poverty line; that guns discharge monstrously banal virility; that a black woman pulled over for a routine traffic violation dies by strangulation in her jail cell; that we buy and sell the myth of the American Dream as though our lives depended on it.
About the Author
Dorothy Barresi is the author of four previous books of poetry: American Fanatics; Rouge Pulp; The Post-Rapture Diner, winner of an American Book Award; and All of the Above, winner of the Barnard New Women Poets Prize. She is the recipient of two Pushcart Prizes and Fellowships from the National Endowment for the Arts and the North Carolina Arts Council. She is professor of English and creative writing at California State University, Northridge.
Praise For What We Did While We Made More Guns (Pitt Poetry Series)…
"There is a lucid and compelling ethical indignation in Dorothy Barresi's enviable new book. There is, as well, Barresi's enviable mastery of twining an extended metaphor around sinuous syntactical cadences. In these bold and often furious poems, Barresi's intelligence and imaginative power can wring clichés, or pieces of old news until each one becomes vivid and unbearable again. A powerful and arresting book."
—Lynn Emanuel
"Despite its catalog of institutional travesties, this book's deep subject is love, a striving toward justice. Don't we know those people—strangers and intimates—who need us? This book does, and it leads us into ecstatic revelation that we do, too.  Barresi is a poet of injured fortitude and coarse vulnerability; she reminds us how very peculiar life is, and how dear."
—Katie Ford
"Dorothy Barresi's poems fragment that dark angel, death, into countless prismatic slivers even as she concedes that the dead are 'with us always.' Her provocative imagination-on-the-page challenges our smug hope for indestructibility in necessary, irrefutable ways: 'Each vertebrae / knobbed to pearl / is a bridesmaid / in a bone ceremonial // walking us / to the grave.'"
—Lynne Thompson
"The personal and the political fuse in surprising ways in this urgent and lyrical collection. Barresi's language is often playful, lush, as attentive to sound as a piano tuner, but don't be fooled: danger stalks throughout What We Did While We Made More Guns.'One amber cat conducting surveillance from the weeds, / only its ticking tail objectively alive.'"
—David Hernandez