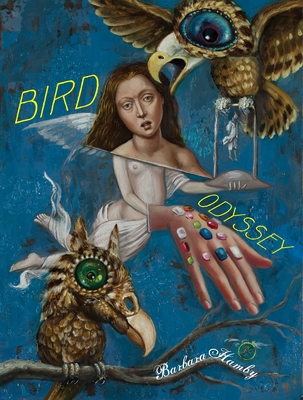 Bird Odyssey (Pitt Poetry Series) (Paperback)
University of Pittsburgh Press, 9780822965251, 88pp.
Publication Date: February 27, 2018
* Individual store prices may vary.
Description
Travel has always been Barbara Hamby's muse, and in Bird Odyssey she hits the road hard, riding a train across Siberia, taking a car trip from Memphis to New Orleans on Highway 61, and following The Odyssey from Troy to Ithaka. The concatenation of images released include Elvis and Tolstoy cruising through the sky in a pink Cadillac, Homer and Robert Johnson discussing their art in the Underworld, and the women in The Odyssey telling their side of the story, because what's a woman to do in this world of men? She has to strike out on her own, ask the right questions, and tell her own story, translating the world into her own bright lie.
About the Author
Barbara Hamby is the author of six books of poems, including On the Street of Divine Love: New and Selected Poems, Babel, and All-Night Lingo Tango. She was a 2010 Guggenheim fellow in Poetry and her book of short stories, Lester Higata's 20th Century, won the 2010 Iowa Short Fiction Award. Her poems have appeared in many magazines, including the New Yorker, Poetry, American Poetry Review, Ploughshares, and Yale Review. She has also edited an anthology of poems, Seriously Funny, with her husband David Kirby. She teaches at Florida State University where she is Distinguished University Scholar.
Praise For Bird Odyssey (Pitt Poetry Series)…
"Hamby's poetry always takes us on a journey. . . . fun for all readers." 
—Library Journal
 
Past praise for Babel:
 "One has only to read a few pages of Babel to feel in the presence of a poet with a unique, many-layered consciousness, and a few more pages to realize that her considerable verbal dexterity and mastery of tone are qualities she's capable of sustaining. This is poetry that energizes, that dares to give us a high- wire performer's notion of a good time."
—Stephen Dunn, final judge for the AWP/Donald Hall Prize for Poetry
Past praise for All-Night Lingo Tango:
 "Reading Barbara Hamby is like savoring a fine multi-course meal. Her poems are thick and meaty, filled with savory details, but full of subtle nuances only realized on multiple reads. She fuses humor, pop culture, literature, travel, and romance in an ebullient mix that one can't help devouring."
—Susie DeFord, Bomblog