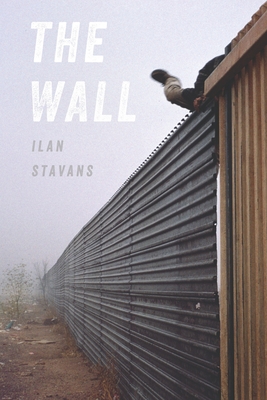 The Wall (Pitt Poetry Series)
Paperback

* Individual store prices may vary.
Description
The Wall is a poetic exploration—across time, space, and language, real as well as metaphorical—of the U.S.-Mexican wall dividing the two civilizations, of similar walls (Jerusalem, China, Berlin, Warsaw, etc.) in history, and of the act of separating people by ideology, class, race, and other subterfuges. It is an indictment of hateful political rhetoric. In the spirit of Virgil's Aeneid and Spoon River Anthology by Edgar Lee Master, it gives voice in symphonic fashion to an assortment of participants (immigrants, border patrol, soldiers, activists, presidents, people dead and alive) involved in the debate on walls. It brings in elements of literature and pop culture, fashion and cuisine. Poetry becomes a tool to explore raw human emotions in all its extremes.
Praise For The Wall (Pitt Poetry Series)…
"Is it possible for a poem to be both extravagant and astringent at once? Ilan Stavans' entirely extraordinary
The Wall
proves it is. Performative, associative, allusive, harrowing, this poem is a profoundly informed investigation and an entirely personal, supremely articulate howl of the heart against division and separation. Ilan Stavans is one of the necessary sayers-out of our time."
—Jane Hirshfield
"Stavans is brilliantly articulate." —Booklist
 
"Stavans magisterially recreates our world increasingly ripped apart by physical, emotional, and economic divisions. His cascades of tessellating words with precise kinetic line breaks vitally transmute the lives of borderland denizens struggling to survive and whose screams are never heard. Stavans sings the body electric and with him we traverse deep planetary time, space, and language in ways that coagulate our world's gaping wounds."
—Frederick Luis Aldama
"Evocative. . . . It couldn't be more pertinent."
—Noam Chomsky
"Ilan Stavans is his own licensed contractor in building
The Wall
, a chiefly linear poem that speaks broadly of the historical walls raised in Beijing, Berlin, Jerusalem, Warsaw, and, closer to home, Nogales and Chihuahua. Moreover, it's a self-assessment of the poet's own personal borders, evident in his repeated reference to family. This is poetry and art—the poetry is unmistakably mature and the visual appeal of the poem's construction is art. Stavans has taken a stance. We stand with him, arm-in-arm, as pickets against the gatekeepers of White House politics."
—Gary Soto
"Ilan Stavans has created a masterful work of the imagination in
The Wall
, a poem that is paradoxically constructed to suggest division, yet proves how language ultimately unites us. Rather than delimiting and securing a territory only some may enter, the poet's wall, whether traversing Berlin or Jerusalem, or Beijing or Warsaw, demands to be scrawled on, scaled, and, with the power of the irrepressible ideas, smashed. Stavans brilliantly demonstrates that indeed, as another great American poet once said, 'Something there is that doesn't love a wall/That wants it down' -- and that our living words will always surmount the hard stone, to resound on all sides."
—Rafael Campo, Harvard University
"In an incredible series of incisions into
The Wall
, daring escapes, multi-voiced rebel graffities, sharp historical punctures, excavations into Gaza, Jewish, Muslim Arabic selves, Aztlan Aztec homeland rafts, U.S.A. land rights wars, feverish routes of Mexican maps, time and space warps into China, reversible kingdoms — this autobioborderless explosion across the page, mind and heart of Stavans comes trembling into your hands to give you the keys to Freedom. A rare wonder — a breathless zig-zag — a lightning bolt of voices in one. Magnificent pioneer Ilan Stavans, here, illuminates a necessary wall-breaker poetics."
—Juan Felipe Herrera, United States Poet Laureate, 2015-2017
University of Pittsburgh Press, 9780822965282, 120pp.
Publication Date: March 1, 2018
About the Author
Ilan Stavans is Lewis-Sebring Professor of Humanities, Latin American, and Latino Culture at Amherst College. He is a renowned essayist, cultural critic, and translator. Stavans has authored, coauthored, or edited many works of fiction, nonfiction, graphic novels, and anthologies. He is the editor of The Norton Anthology of Latino Literature, and hosts the NPR podcast In Contrast.