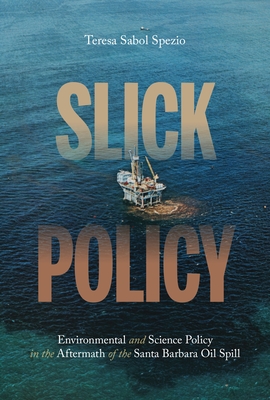 Slick Policy
Environmental and Science Policy in the Aftermath of the Santa Barbara Oil Spill (Pittsburgh Hist Urban Environ)
Paperback

* Individual store prices may vary.
Description
In January 1969, the blowout on an offshore oil platform off the coast of Santa Barbara, California, and the resulting oil spill proved to be a transformative event in pollution control and the nascent environmental activism movement. It accelerated the advancement of federal government policies and would change the way the federal government managed environmental pollution. Over the next three years, Congress worked to pass laws such as the National Environmental Policy Act and the Clean Water Act, and revolutionized the way that the United States dealt with environmental pollution. At the same time, scientists developed methods to detect chemical pollution that had been discharged into rivers and streams by industrial facilities.

Slick Policy presents an original and in-depth history of the 1969 Santa Barbara spill. Teresa Sabol Spezio provides a background of water pollution control, government oversight of federally-funded projects, and chemical detection methods in place prior to the spill. She then shows how scientists and politicians used public outrage over the spill to implement wide-ranging changes to federal environmental and science policy, and demonstrates the advancements to offshore oil drilling, pollution technology, and water protection law that resulted from these actions.
Praise For Slick Policy: Environmental and Science Policy in the Aftermath of the Santa Barbara Oil Spill (Pittsburgh Hist Urban Environ)…
"A history of the Santa Barbara oil spill of 1969 and its impact is an important addition to the historiography of American environmentalism. Spezio has done a good job of providing a close history of the spill while effectively contextualizing a number of issues including: offshore oil drilling, pollution technology, and water law. This volume will be of great interest to environmental historians and general readers interested in environmental politics and policy." —Robert D. Lifset, University of Oklahoma

"The value of this book lies in the historical examination of how, in the context, of changing social values, the environmental movement evolved, how it matured, and how it must withstand threats." —Choice

"Slick Policy still provides a significant contribution to explaining why the Santa Barbara blowout of 1969 resonated so profoundly in American politics and how it helped usher in the environmental management state." —Tyler Priest, Environmental History 

"Spezio's focus on water quality adds a valuable dimension that will be of interest to science and technology studies scholars. The book's most striking contribution is this exploration, in close detail, of how scientific methods and regulatory structures mutually evolved." —PoLAR Online
 

"Slick Policy shows how the release of oil, made visible by intense media and upper-middle-class protest, was also made political and led to regulatory reform. This approach allows [Sabal Spezio] to build on the wealth of existing discourse on the topic and contributes an interesting perspective on how environmental science and policy were produced through interactions with an offshore oil pollution event. The book successfully communicates both the birth of meaningful environmental regulation and the importance of technological expertise in strong environmental governance." —H-Net Reviews
 
University of Pittsburgh Press, 9780822965329, 248pp.
Publication Date: April 30, 2018
About the Author
Teresa Sabol Spezio is a visiting assistant professor in environmental analysis at Pitzer College in Claremont, CA. She is a licensed professional engineer who has worked in the environmental field.