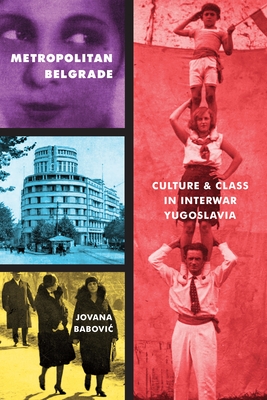 Metropolitan Belgrade (Paperback)
Culture and Class in Interwar Yugoslavia (Russian and East European Studies)
University of Pittsburgh Press, 9780822965350, 208pp.
Publication Date: July 3, 2018
* Individual store prices may vary.
Description
Winner of theMihajlo Misa DjordjevicBook Prizeawarded by the North American Society for Serbian Studies

Metropolitan Belgrade presents a sociocultural history of the city as an entertainment mecca during the 1920s and 1930s. It unearths the ordinary and extraordinary leisure activities that captured the attention of urban residents and considers the broader role of popular culture in interwar society. 
    As the capital of the newly unified Yugoslavia, Belgrade became increasingly linked to transnational networks after World War I, as jazz, film, and cabaret streamed into the city from abroad during the early 1920s. Belgrade's middle class residents readily consumed foreign popular culture as a symbol of their participation in European metropolitan modernity. The pleasures they derived from entertainment, however, stood at odds with their civic duty of promoting highbrow culture and nurturing the Serbian nation within the Yugoslav state. 
    Ultimately, middle-class Belgraders learned to reconcile their leisured indulgences by defining them as bourgeois refinement. But as they endowed foreign entertainment with higher cultural value, they marginalized Yugoslav performers and their lower-class patrons from urban life. Metropolitan Belgrade tells the story of the Europeanization of the capital's middle class and how it led to spatial segregation, cultural stratification, and the destruction of the Yugoslav entertainment industry during the interwar years.
About the Author
Jovana Babovic is a historian with a PhD from the University of Illinois at Urbana-Champaign.
Praise For Metropolitan Belgrade: Culture and Class in Interwar Yugoslavia (Russian and East European Studies)…
"Metropolitan Belgrade is an engaging feat of urban history, in which entertainment is center stage. Babovic's textured descriptions of the city and its inhabitants often reveal the unexpected—such as the visit of Josephine Baker in 1929. Babovic's captivating account is a superb lens to rethink some of the most important themes and tensions in Serbian, Yugoslav, and European history."
—Mary Neuburger, University of Texas at Austin
"A valuable contribution, not just to East European history and the history of the former Yugoslavia, but to the broader fields of urban history and European cultural history more generally. This book will sit very comfortably, and confidently, alongside some of the most interesting and impressive new additions to the field."
—Patrick Patterson, University of California-San Diego
"Jovana Babović has written an important contribution to our understanding of the development of Belgrade as a cultural center in the Kingdom of Serbs, Croats, and Slovenes in the 1920s and '30s."
—David A. Norris,
Slavic Review