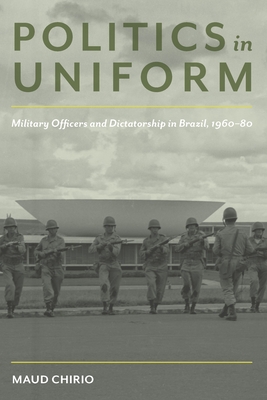 Politics in Uniform (Paperback)
Military Officers and Dictatorship in Brazil, 1960-80 (Pitt Latin American Series)
University of Pittsburgh Press, 9780822965374, 280pp.
Publication Date: July 24, 2018
* Individual store prices may vary.
Description
Between 1964 and 1985, Brazil lived under the control of a repressive, anticommunist regime, where generals maintained all power. Respect for discipline and the absence of any and all political activity was demanded of lower-ranking officers, while their commanders ran the highest functions of state. Despite these circumstances, dozens of young captains, majors, and colonels believed that they too deserved to participate in the exercise of power. For two decades they carried on a clandestine political life that strongly influenced the regime's evolution. This book tells their story. It is history viewed from below, that pays attention to the origins of these actors, their career paths, their words, and their memories, as recounted not only in traditionally available material but also in numerous personal interviews and unpublished civilian and military archives. This behind-the-scenes political life presents a new perspective on the nature and the internal operations of the Brazilian dictatorial military state.
            This book is a translation, with expanded material for English-language readers, of Maud Chirio's original Portuguese-language work, A política nos quartéis: Revoltas e protestos de oficiais na ditadura militar brasileira, which was awarded the Thomas E. Skidmore Prize by the Brazilian National Archives and Brazilian Studies Association.
 
About the Author
Maud Chirio is associate professor of history at the University of Paris Est Marne-la-Vallée (UPEM).
Praise For Politics in Uniform: Military Officers and Dictatorship in Brazil, 1960-80 (Pitt Latin American Series)…
"Politics in Uniform is innovative and extremely important. It challenges existing analyses of the internal politics of the Brazilian Armed Forces and focuses significant attention on junior officers and their role in pressuring for diverse policies of the regime. This is a pioneering study of how rank-and-file members of the military actively engaged in politics that will be a model for scholars of military regimes across much of Latin America."
—James Green, Brown University
"Chirio's argument is groundbreaking, pushing beyond superficial descriptions of 'the military,' and even beyond previous analyses of left-right splits within the army. She shows that understanding generational divides and the ambitions of the volatile junior officer ranks is essential to understanding the coup and the dictatorship in Brazil."
—Bryan McCann, Georgetown University
 
"While the coup that toppled the government of João Goulart in 1964 has been studied by a variety of scholars, few studies stand out as much as Maud Chirio's stimulating book on the event and the military regime that followed it."
—Frank D. McCann,
E.I.A.L.
"
Politics in Uniform
constitutes one of the most original works on the Brazilian military regime's political history produced in the last decade, contributing to the field's understanding of the conflicts and changes within the most violent faction of the military during this era of authoritarianism in Brazil."
—
Hispanic American Historical Review