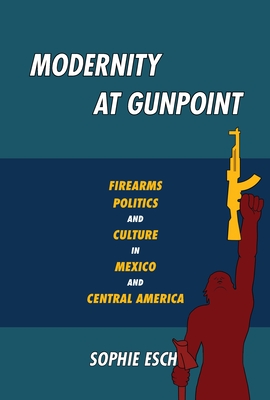 Modernity at Gunpoint (Paperback)
Firearms, Politics, and Culture in Mexico and Central America (Pitt Illuminations)
University of Pittsburgh Press, 9780822965381, 296pp.
Publication Date: October 16, 2018
* Individual store prices may vary.
Description
Modernity at Gunpoint provides the first study of the political and cultural significance of weaponry in the context of major armed conflicts in Mexico and Central America. In this highly original study, Sophie Esch approaches political violence through its most direct but also most symbolic tool: the firearm. In novels, songs, and photos of insurgency, firearms appear as artifacts, tropes, and props, through which artists negotiate conceptions of modernity, citizenship, and militancy. Esch grounds her analysis in important rereadings of canonical texts by Martín Luis Guzman, Nellie Campobello, Omar Cabezas, Gioconda Belli, Sergio Ramirez, Horacio Castellanos Moya, and others. Through the lens of the iconic firearm, Esch relates the story of the peasant insurgencies of the Mexican Revolution, the guerrilla warfare of the Sandinista Revolution, and the ongoing drug-related wars in Mexico and Central America, to highlight the historical, cultural, gendered, and political significance of weapons in this volatile region.
About the Author
Sophie Esch is an assistant professor of Latin American literature and culture at Colorado State University.
Praise For Modernity at Gunpoint: Firearms, Politics, and Culture in Mexico and Central America (Pitt Illuminations)…
"Modernity at Gunpoint is a unique and groundbreaking study on the culture of guns and the way in which material objects and the imagination about them contribute to discussions of gender, politics, and ideology. This is a rare book that organically understands the shared and diverging histories of Mexico and Central America, in ways that have been rendered urgent by new migration and economic patterns."
—Ignacio M. Sanchez Prado, Washington University, St. Louis
"To the saying that 'war is the continuation of politics by other means,' Foucault replied that 'power is the continuation of war by other means.' Esch shows that, in the context of Mexican and Central American modern history, both sayings are relevant. Brilliantly argued, and using the rifle as a symbolic tool, she produces a striking new image of these cultures."
—Jorge Aguilar Mora, University of Maryland
or
Not Currently Available for Direct Purchase