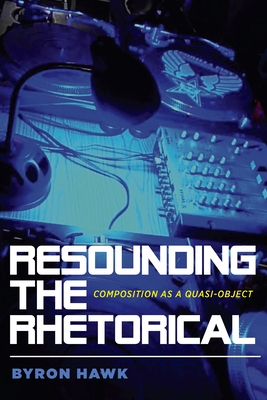 Resounding the Rhetorical
Composition as a Quasi-Object (Composition, Literacy, and Culture)
Paperback

* Individual store prices may vary.
Description
Resounding the Rhetorical offers an original critical and theoretical examination of composition as a quasi-object. As composition flourishes in multiple media (digital, sonic, visual, etc.), Byron Hawk seeks to connect new materialism with current composition scholarship and critical theory. Using sound and music as his examples, he demonstrates how a quasi-object can and does materialize for communicative and affective expression, and becomes a useful mechanism for the study and execution of composition as a discipline. Through careful readings of Serres, Latour, Deleuze, Heidegger, and others, Hawk reconstructs key concepts in the field including composition, process, research, collaboration, publics, and rhetoric. His work delivers a cutting-edge response to the state of the field, where it is headed, and the possibilities for postprocess and postwriting composition and rhetoric.
Praise For Resounding the Rhetorical: Composition as a Quasi-Object (Composition, Literacy, and Culture)…
"Resounding the Rhetorical adds the latest chapter in the lineage of the foremost critical theory in the field of rhetoric and composition. Hawk makes his most important and carefully researched contribution to the conversation about post-process theory. Along this lineage are swirling constellations of metaphors – ecology, dancing, networks, even parasites – and ultimately Hawk's case study of sound and music is used to illustrate how we can better conceive of composition and rhetoric." —Todd Taylor, University of North Carolina

"Hawk presents a new framework or theory of composition based on the quasi-object. By situating sound as a quasi-object, Hawk demonstrates what this framework might mean for six key terms in the field: composition, process, research, collaboration, publics, and rhetoric. This is an extraordinarily 'big idea' for the field." —Michael Neal, Florida State University

"Arguing that rhetoric and composition's object of study—composition—is most usefully understood as a quasi-object, Hawk guides us to rethink what composition is and how it functions. . . . Resounding sets out a new theory of composition using an impressive (and at times daunting) amount of complex theory, both from rhetoric and composition and other fields." —Rhetoric Review
 
University of Pittsburgh Press, 9780822965411, 296pp.
Publication Date: August 7, 2018
About the Author
Byron Hawk is associate professor of English at the University of South Carolina. He is the author of ACounter-History of Composition: Toward Methodologies of Complexity, winner of the W. Ross Winterowd Award, and coeditor of Small Tech: The Culture of Digital Tools.