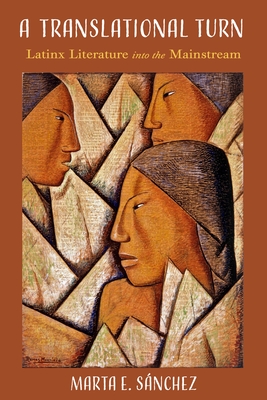 A Translational Turn
Latinx Literature into the Mainstream (Latinx and Latin American Profiles)
Paperback

* Individual store prices may vary.
Description
No contemporary development underscores the transnational linkage between the United States and Spanish-language América today more than the wave of in-migration from Spanish-language countries during the 1980s and 1990s.  This development, among others, has made clear what has always been true, that the United States is part of Spanish-language América.  Translation and oral communication from Spanish to English have been constant phenomena since before the annexation of the Mexican Southwest in 1848. The expanding number of counter-national translations from English to Spanish of Latinx fictional narratives by mainstream presses between the 1990s and 2010 is an indication of significant change in the relationship.  A Translational Turn explores both the historical reality of Spanish to English translation and the "new" counter-national English to Spanish translation of Latinx narratives.  More than theorizing about translation, this book underscores long-standing contact, such as code-mixing and bi-multilingualism, between the two languages in U.S. language and culture.  Although some political groups in this country persist in seeing and representing this country as having a single national tongue and community, the linguistic ecology of both major cities and the suburban periphery, here and in the global world, is bilingualism and multilingualism.
Praise For A Translational Turn: Latinx Literature into the Mainstream (Latinx and Latin American Profiles)…
"An astute, timely, and ground-breaking contribution that brings Latino/a studies and translation studies together for the first time. Sánchez, distinguishing between inter-national and intra-national translation practices, analyzes Latino/a literature in the U.S. written in English and translated almost simultaneously into Spanish, brilliantly locating the problems (misreadings, untranslatability) that arise when translation occurs within the same nation-state. Moving beyond 'translation as betrayal,' this book proposes inventive ways of approaching bi/multilingual texts and imaginaries in an increasingly connected world." —Norma Klahn, University of California, Santa Cruz
 
"Sánchez's A Translational Turnis the first monograph to explicitly put contemporary Latinx literature in conversation with translation studies. . . . It is a pathbreaking book, laying the groundwork for further inquiry into complex aspects of international and transnational translations of Latinx literatures." —Latino Studies

"Sánchez's
A Translational Turn
is the first monograph to explicitly put contemporary Latinx literature in conversation with translation studies." —
Latino Studies
University of Pittsburgh Press, 9780822965510, 176pp.
Publication Date: January 22, 2019
About the Author
Marta E. Sánchez is professor emerita of Chicano and Latino literature at University of California San Diego and Arizona State University.