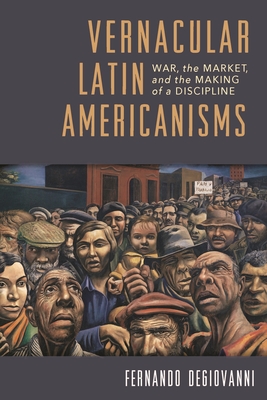 Vernacular Latin Americanisms (Paperback)
War, the Market, and the Making of a Discipline (Pitt Illuminations)
University of Pittsburgh Press, 9780822965541, 248pp.
Publication Date: December 11, 2018
* Individual store prices may vary.
Description
In Vernacular Latin Americanisms, Fernando Degiovanni offers a long-view perspective on the intense debates that shaped Latin American studies and still inform their function in the globalized and neoliberal university of today. By doing so he provides a reevaluation of a field whose epistemological and political status has obsessed its participants up until the present. The book focuses on the emergence of Latin Americanism as a field of critical debate and scholarly inquiry between the 1890s and the 1960s. Drawing on contemporary theory, intellectual history, and extensive archival research, Degiovanni explores in particular how the discourse and realities of war and capitalism have left an indelible mark on the formation of disciplinary perspectives on Latin American cultures in both the United States and Latin America. Questioning the premise that Latin Americanism as a discipline comes out of the tradition of continental identity developed by prominent intellectuals such as José Martí, José E. Rodó or José Vasconcelos, Degiovanni proposes that the scholars who established the discipline did not set out to defend Latin America as a place of uncontaminated spiritual values opposed to a utilitarian and materialist United States. Their mission was entirely different, even the opposite: giving a place to culture in the consolidation of alternative models of regional economic cooperation at moments of international armed conflict. For scholars theorizing Latin Americanism in market terms, this meant questioning nativist and cosmopolitan narratives about identity; it also meant abandoning any Bolivarian project of continental unity or of socialist internationalism.
 
About the Author
Fernando Degiovanni is professor of Latin American, Iberian, and Latino cultures at the Graduate Center, CUNY. He is the winner of the 2010 Alfredo Roggiano Prize for Latin American Cultural and Literary Criticism by the International Institute for Ibero-American Literature.


 
Praise For Vernacular Latin Americanisms: War, the Market, and the Making of a Discipline (Pitt Illuminations)…
"Throughout an impressive exploration in personal and institutional archives, Degiovanni rebuilds the history of Latin Americanism as a discipline. He revamps the classical intellectual history approach with incisive readings of the ways in which transnational links, academic markets, politics of knowledge, and personal ambitions shaped the emergence of the field. Vernacular Latin Americanisms shows the battles for the power of knowledge."
—Graciela Montaldo, Columbia University
 
"The book's most notable achievement is its way of situating these intellectual productions, often isolated from the contexts from which they emerged, by bringing to light the deep historical and political value of culture, and in this specific case of the birth of Latin Americanism as a discipline."
—Michela Coletta,
E.I.A.L.
or
Not Currently Available for Direct Purchase