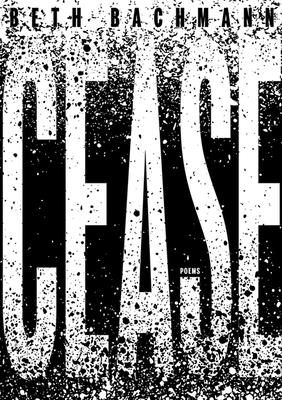 Cease (Pitt Poetry Series)
Paperback

* Individual store prices may vary.
Description
A Plea and an Awakening to Peace as a Process and a Transient State

CEASE begins with the words, "to keep the peace/we need a wall/to fall to our knees before…." Framed by the long poem, "wall," Beth Bachmann's new collection of poetry wildly upturns the boundaries between bodies at peace and bodies at war, between the human territory of border walls and the effects of war on the environment and landscape, between the movements of soldiers and of refugees, between terror as an interior state and violences performed on the body, and between the words of politicians and the breath of a poem. Taking up Muriel Rukeyser's call for women poets to respond to war, "Women and poets see the truth arrive," the poems in CEASE are almost breathless in their speed and presence on the page. CEASE is both a plea and an awakening to peace as a process and a transient state.
Praise For Cease (Pitt Poetry Series)…
"The poems in Beth Bachman's Cease--not quite lyric, not quite prose--read more like urgently wired messages.  Sometimes, her words splash forward like water from a pitcher.  Sometimes, they erupt like fire from a drum.  The disasters of war may be infinite, but fortunately God gave us the desire for touch to redeem ourselves. Along with beauteous animals and the earth.  Beth Bachmann has written a scarily original, apocalyptic book about a time when it appears it is necessary to destroy and kill for peace."—Henri Cole 
 

"How are we to speak to each other in a time of war? In half-whispers? shouts? In their music--and even more so in their silences—these poems' incredible power is in the knowledge they possess: the keen awareness that here, in America 'we are guilty of what we haven't done.' Bachmann has created here a necessary, inimitable, urgent music." —Ilya Kaminsky
University of Pittsburgh Press, 9780822965572, 72pp.
Publication Date: September 18, 2018
About the Author
Beth Bachmann is a 2016 Guggenheim Fellow in poetry and the author of two prior books from the Pitt Poetry Series: Temper, winner of the AWP Donald Hall Prize and Kate Tufts Discovery Award, and Do Not Rise, winner of the Poetry Society of America's Alice Fay di Castagnola Award. Poems from CEASE received the Virginia Quarterly Review Emily Clark Balch Prize. Each fall, Bachmann serves as Writer in Residence in the MFA program at Vanderbilt University.
 
or
Not Currently Available for Direct Purchase