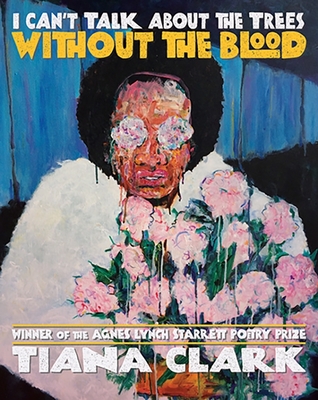 I Can't Talk About the Trees Without the Blood (Pitt Poetry Series)
Paperback

* Individual store prices may vary.
Description
Winner of the 2017 Agnes Lynch Starrett Poetry Prize

Winner of the 2020 Kate Tufts Discovery Award

For prize-winning poet Tiana Clark, trees will never be just trees. They will also and always be a row of gallows from which Black bodies once swung. This is an image that she cannot escape, but one that she has learned to lean into as she delves into personal and public histories, explicating memories and muses around race, elegy, family, and faith by making and breaking forms as well as probing mythology, literary history, her own ancestry, and, yes, even Rihanna. I Can't Talk About the Trees without the Blood, because Tiana cannot engage with the physical and psychic landscape of the South without seeing the braided trauma of the broken past—she will always see blood on the leaves.
Praise For I Can't Talk About the Trees Without the Blood (Pitt Poetry Series)…
"If Tiana Clark's I Can't Talk About the Trees Without the Blood were a blank book bearing that title alone, I would still feel like I was in the presence of a profound lyric gift. It's astonishing, the heft of that declaration, and the way these poems rise up to meet its rigor and clarity. Toni Morrison commanded writers to "make it political as hell, and make it irrevocably beautiful." Clark, as if in response, writes, "Let us marvel at the Love and Grace that bought / and brought us here." The formal dexterity of these poems, the vision that takes us from Daphne to Lorca to Phillis Wheatley to Balanchine to Rihanna to Rukeyser, announces a significant and comprehensive new poetic talent. This beauty is irrevocable—Clark has written one of the best first books of poetry I have ever read." —Kaveh Akbar  

"Critiquing the commodification of black pain while also acknowledging and revealing your hurt as a black person is tricky as hell.  It is dangerous.  And that is precisely what Tiana Clark does in these beautiful, vulnerable, honest poems.  It is a kind of tenderness, and a kind of belief.  A reaching toward.  It is a kind of care."—Ross Gay
 

"Superlatives for new poets are distressingly common these days, so a reader may not believe me when I say this debut collection is a book that I have waited for all my life. It is a book of relentless beauty about all the territory African-Americans hold close under whispered breaths, an accumulation of history and beauty that I find heartbreaking and breathtaking. More than necessary reading; it's soul-saving. Read it, and be changed and redeemed." —Allison Joseph, author of Confessions of a Barefaced Woman

"It's in this boundless imagination and versatility that Clark earns a place among the pantheon of such emerging black poets as Eve Ewing, Nicole Sealy, and Airea D. Matthews." —Booklist starred review 

"Clark bridges a Tennessee landscape's past and present in her stellar debut, evincing a potent mix of history, injury, and divided identity." —Publishers Weekly starred review 

"An honest, punch-angry portrait of being American while black." —Library Journal 

"Such commitment and bravery on the page are vital to this moment in our region's history, when the calls for a deep reckoning with out troubled legacy have met a dangerous level of entrenchment. With I Can't Talk About the Trees Without the Blood, Clark emerges as a necessary voice from the contemporary South." —Chapter 16
 
University of Pittsburgh Press, 9780822965589, 80pp.
Publication Date: September 18, 2018
About the Author
Tiana Clark is the author of Equilibrium, selected by Afaa Michael Weaver for the 2016 Frost Place Chapbook Competition. She is the winner of the 2017 Furious Flower's Gwendolyn Brooks Centennial Poetry Prize, 2015 Rattle Poetry Prize, and winner of a 2019 Pushcart Prize. Clark was the recipient of the 2017-2018 Jay C. and Ruth Halls Poetry Fellowship at the Wisconsin Institute of Creative Writing. Her writing has appeared in or is forthcoming from The New Yorker, Kenyon Review, American Poetry Review, New England Review, Best New Poets 2015, BOAAT, Crab Orchard Review, Thrush, The Journal, and elsewhere. She teaches creative writing at Southern Illinois University at Edwardsville.