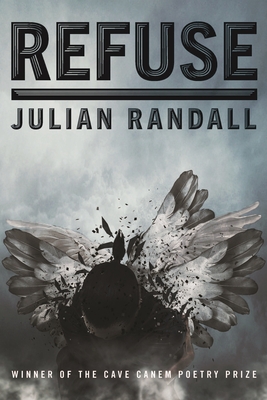 Refuse
Poems (Pitt Poetry Series)
Paperback

* Individual store prices may vary.
Description
Winner of the 2017 Cave Canem Poetry Prize

Set against the backdrop of the Obama presidency, Julian Randall's Refuse documents a young biracial man's journey through the mythos of Blackness, Latinidad, family, sexuality and a hostile American landscape.  Mapping the relationship between father and son caught in a lineage of grief and inherited Black trauma, Randall conjures reflections from mythical figures such as Icarus, Narcissus and the absent Frank Ocean.  Not merely a story of the wound but the salve, Refuse  is a poetry debut that accepts that every song must end before walking confidently into the next music
 
Praise For Refuse: Poems (Pitt Poetry Series)…
"Though these poems meddle in binaries and duality, they refuse to split the body and instead reveal the biracial bi voice haunting these pages as whole and wholly original. This debut joins that great lineage of Cave Canem Prize winners, and, once again, gives us not just a spellbinding collection of poetry, but announces a new and necessary voice in Black poetics." —Danez Smith

"Randall's work speaks to his refusal to abide by the expected boundaries and binaries set out for him. As we contemplate how to go forward in an America whose fault line runs deep, an immigrant son entrenched in the American experience, a black man owning his Dominican heritage, a sensualist uncowed by the magnetic poles of sexual appeals, a poet unabashedly forwards, interrogates, and illumines the fulsome measure of his 'I' . . . And no matter who would dare an argument, or seek to deny Randall's utter personhood, Refuse is an inscription that won't allow erasure." —Vievee Francis, judge​

"Julian Randall's hard-hitting debut is a dispatch straight from the crosshairs of Chump's Amerikkka.  In poems that are raw, urgent, and formally dexterous, Randall testifies against a state that would just as soon see him dead as silenced.  And in the tradition of such culture warriors as Audre Lorde and Larry Neal, Randall refuses the muzzle and the machine.  In these perilous times, we need a poet of such vision and courage, ojos y corazon, as Randall, who 'looks beyond the window . . . and beneath the snow imagines an entire country; beneath that country, another.'" —John Murillo

"In this stunning breakout collection, Randall writes with brilliance and verve about what it means to be black, biracial, and queer, exploding delineations between the personal and political. The son of an African American father and a Dominican mother, Randall obsesses over lineage and legacy, both biological ties between people and the lives of exceptional individuals. In "Portrait of My Father as Sisyphus," the speaker depicts a man who must care for his ailing mother and who, like Sisyphus, will bear this difficult burden until one of them perishes. Elsewhere, Randall depicts the only black boy in a cold Nebraska classroom who is subjected to "the savage lick of a whip as a means of explaining an entire history." A native Chicagoan, Randall weaves President Obama throughout the book, drawing on shared experiences of biracial black men, but closes the series at a vital crossroads with a Langston Hughes homage: "Obama Speaks of Rivers but We Have Always Been on Different Shores." Throughout, Randall is a master of simple, unexpectedly devastating lyrics: 'sometimes being Biracial / is to have two half-filled gasses / & die of thirst anyway.' In its raw ferocity and scintillating intelligence, Randall's debut stands with those of the best of new voices, including Saeed Jones,  Danez Smith, and Rickey Laurentiis." —Diego Báez
University of Pittsburgh Press, 9780822965602, 80pp.
Publication Date: September 18, 2018
About the Author
Julian Randall is a Living Queer Black poet from Chicago. He has received fellowships from Callaloo, BOAAT, and The Watering Hole and was the 2015 National College Slam (CUPSI) Best Poet. Julian is the curator of Winter Tangerine Review's Lineage of Mirrors. His work has appeared or is forthcoming in publications such as New York Times Magazine, The Georgia Review, and Sixth Finch and in the anthologies Portrait in Blues, Nepantla, and New Poetry from the Midwest. He is a candidate for his MFA in Poetry at Ole Miss.
 
or
Not Currently Available for Direct Purchase