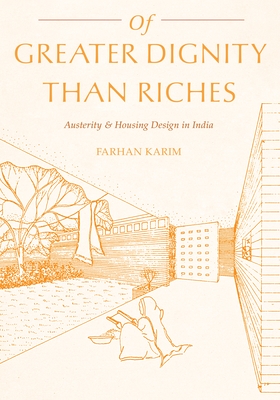 Of Greater Dignity than Riches
Austerity and Housing Design in India (Culture Politics & the Built Environment)
Hardcover

* Individual store prices may vary.
Description
Extreme poverty, which intensified in India during colonial rule, peaked in the 1920s—after decades of imperialist exploitation, famine, and disease—a time when architects, engineers, and city authorities proposed a new type of housing for India's urban poor and industrial workers. As Farhan Karim argues, economic scarcity became a central inspiration for architectural modernism in the subcontinent. 

As India moved from colonial rule to independence, the Indian government, business entities, international NGOs, and intergovernmental agencies took major initiatives to modernize housing conditions and the domestic environment of the state's low-income population. Of Greater Dignity than Riches traces multiple international origins of austerity as an essential ingredient of postcolonial development. By prescribing model villages, communities, and ideal houses for the working class, this project of austerity eventually reduced poverty into a stylized architectural representation. In this rich and original study, Karim explains the postwar and postcolonial history of low-cost housing as an intertwined process of global transferences of knowledge, Cold War cultural politics, postcolonial nationalism, and the politics of economic development.
Praise For Of Greater Dignity than Riches: Austerity and Housing Design in India (Culture Politics & the Built Environment)…
"Of Greater Dignity than Richesmakes a much-needed contribution to the all-important—and still ongoing—discussion of the 'minimum house' in South Asia. Farhan Karim's work complements a growing general body of interest in colonial and postcolonial architecture of the Indian subcontinent. His deft analysis of modernisms of architecture engaged by the Nehruvian state, beyond those in Chandigarh and Ahmedabad, is badly needed." —Vikramāditya Prakāsh, University of Washington
 

"This book brilliantly shows the explanatory power of austerity and scarcity in the emergence of postcolonial modernism in India, without disregarding how the state and global institutions manipulated these values as a means to keep the poor docile and content with minimal needs. Thinking about a modernism of austerity helps us confront two of the worlds' most pressing problems: Anthropocene and global economic injustice." —Esra Akcan, Cornell University
 

"Such is the triumph of this fine book: it offers at once a global history of India's architectural past and a set of timely lessons for this interconnected architectural present." —Journal of the Society of Architectural Historians
 
University of Pittsburgh Press, 9780822965695, 408pp.
Publication Date: April 9, 2019
About the Author
Farhan Karim is an assistant professor in the School of Architecture and Design at the University of Kansas. He has worked as an architect, interior designer, and furniture designer in Bangladesh and Australia.
 
or
Not Currently Available for Direct Purchase